Seema Jindal Jajodia, Founder Nourish Organics wins the Times SheUnLTD Entrepreneur Awards 2020 
She has won this award out of over 6000 participants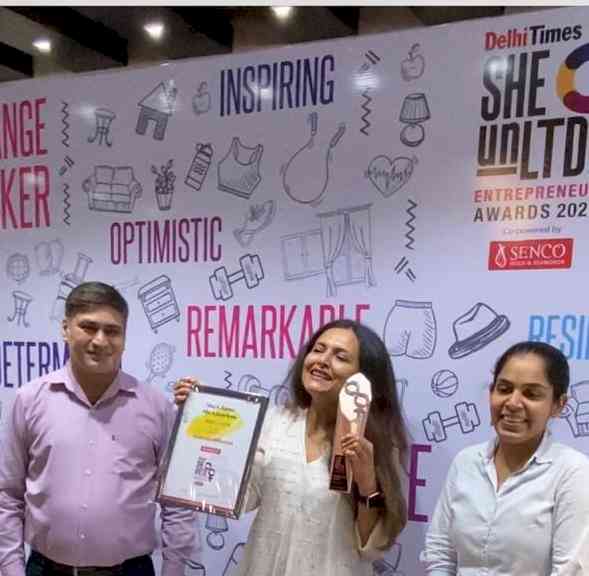 Delhi: Mrs Seema Jindal Jajodia, founder of Nourish Organics wins the Times She UnLTD Entrepreneur Award 2020 under the Wellness and Fitness category. The award is an endeavor to honor women who have embarked on the journey of entrepreneurship from home, to make their dreams come alive. It is a platform that celebrates passions, ambitions and aspirations of women who have put everything on the line to build and grow their own businesses.  Seema Jindal Jajodia is the founder of homegrown clean, sustainable, organic food based brand "Nourish Organics" 

Mrs Seema Jindal Jajodia has won this award out of over 6000 participants and over 200 finalists after grueling rounds of jury interactions. Founded in 2009, Nourish Organics is a clean-label packaged food company that aims at making healthy eating easier for the urban population through sustainable, organic food. The brand offers a wide range of wholesome, multi-grain breakfast cereals, nutrient dense cookies, on-the-go snacks and fruit+fibre based health bars.  

In today's times when immunity building is such an important element of daily living, Seema envisions building a community of conscious consumers that support the believe of "We Are What We Eat". Nourish Organics portfolio of products offers solutions for Vegan, Gluten Free, High Fibre, High Omega, High Protein, Low Calorie, High Vitamin, Low Sugar, Low Sodium and High Selenium diets and is a well researched quality food brand along with being responsible towards the planet. Nourish Organics places special emphasis on developing and maintaining a promise of quality from procurement to production and even to packaging, by utilizing recyclable packaging as much as possible while keeping food safety standards in mind. Seema Jindal Jajodia firmly believes that local procurement helps maintain product quality standards while supporting the organic farming community, their families and the local economy.