Season 2 of 'U&I International Fashion Week' thrills Chandigarh
The U&I International Fashion Week (Season 2) concluded today at Hyatt Regency, Chandigarh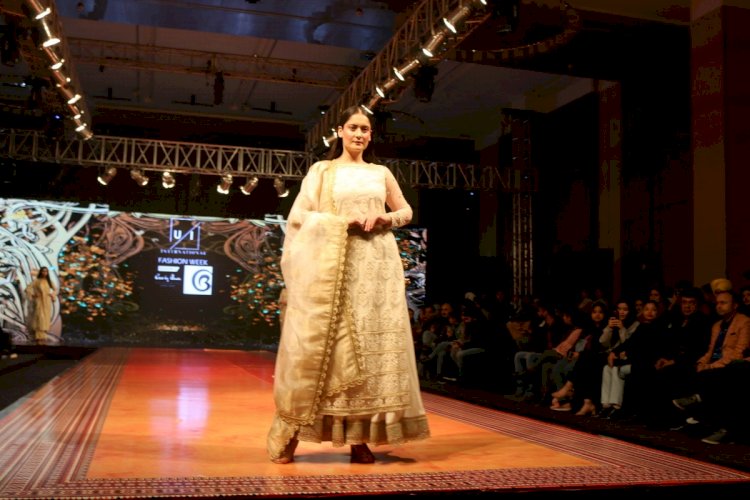 Chandigarh: The U&I International Fashion Week (Season 2) concluded today at Hyatt Regency, Chandigarh. The two-day fashion week showcased latest collections by a battery of celebrity designers including Ramola Bachchan (Delhi), Rajdeep Ranawat (Lakme fame), Abdul Rehman (Bollywood designer), Maninder Gulati (Delhi), Joy Mitra, Pratika Kapoor, Ankita, Anjini Sharma (Faridabad), Sanlisa, Nikita Tandon, Meenakshi Monga (Ludhiana), Dimpple Kpoor (Delhi), Sarandha Chaudhary, Sana Khan (Nagpur), Rachit Khanna (Chandigarh), Arjun and Anjali Kapoor among others.
Kids fashion week was the first segment on both days, which had children participating from all over the country. Bollywood celebrity designer Abdul Rehman and Ramola Bachchan from Delhi had their shows on the first day, while FDCI fashion designer Joy Mitra was the star attraction of the grand finale today.
Designer Rachit Khanna said, "We are here for our new collection 'Tareef', which stands for luxury and royalty and it is made of velvet and suede. It's been three years since I have been working in Chandigarh. Otherwise, I launched this brand 12 years ago. I began with my first store in Ludhiana with a small studio. I try to design according to people's taste, their size, personality, looks and choice."
Designer Priyanka from Delhi, Sarandha Chaudhary, Albashir Industries, Mukesh Dubey and Harshit from DCH Club, New Delhi, Marks and Spencer also presented their sequences in between the show.
Celebrity Designer Abdul Rehman said, "We have used silk clothing mainly for both men and women outfits. I have focused on fusion. I believe Chandigarh is a very fashionable city and people here have keen knowledge of smartness and style. I am a NIFT graduate and I have been in the fashion industry for 18 years. I have designed dresses for Bollywood actors like Shilpa Shetty, Rani Mukerjee, Suresh Raina, Parveen Raina, Sara Khan, Rashmi Desai, Anurag Sharma, Nandini Gupta and many more."
The show on Sunday, began with the kids fashion show, followed by models beautifully showcasing the collections of Rajdeep Ranawat, Pratika Kapoor, Anjini Sharma,  Sanlisa, Nikhita Tandon, Meenakshi Monga, Maninder Gulati, Dimpple Kpoor and Joy Mitra.
Rahul Pasi, Founder & Director, U&I International, said, "The Fashion Week is supported by celebrity designers and top models of national and international repute. Season 1 of the Fashion Week was held at Vivanta by Taj, New Delhi. I am glad to see response here."
Designer Anjini Sharma said, "The theme of my collection is secret garden. It's about a woman who likes to wander in the wild. She can't be tamed. She's free spirited, imaginative, gets inspired by nature. She believes in fantasy and magic, yet she is very much in touch with the reality. I have used flowers like pansies, poppies, anemones, which are connected to goddess aphrodite. She's the greek goddess of love, youth and beauty."
"My collection is all about love, loss, self love and rediscovery. It's about  being courageous and rising up, celebrating self love and infinite beauty of women. Every woman is a goddess in her own way. Pearls, thread work, sequins, combination of soft pastels like sorbet pink, blush, lavender with trendy colors like eclipse and living coral make the collection elegant and sophisticated for the modern women," she added.
U&I International is a world-class event management company headquartered in New Delhi. The company represents professionals including models, makeup artists and renowned fashion designers from major cities across the globe. The company strongly believes in meeting commitments and delivering quality work. U&I International is proud to have Radhika Marwaha, Ajai Patel BDM, Namisha Patel- Production Head, Ketan Bhatia, Show Director; Khizar Hussain and Kapil Gauhri, Choreographers; Isha Sharma, Show Coordinator; Anjali Singhal, Backstage Coordinator; and Nick Mahal, Creative Head. Make up partner of the event is Richa Aggarwal (Cleopatra).