Science Day celebrated at UHF Nauni
Various competitions were organized for school children as part of the National Science Day celebrations at the Dr. YS Parmar University of Horticulture and Forestry, Nauni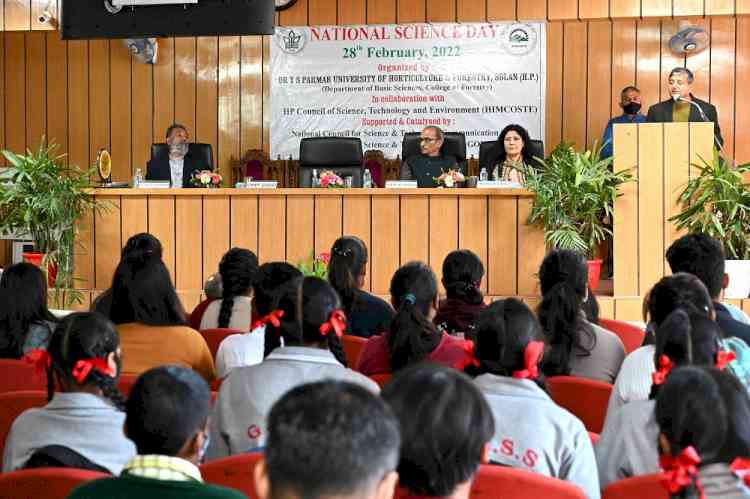 Nauni, February 28, 2022: Various competitions were organized for school children as part of the National Science Day celebrations at the Dr. YS Parmar University of Horticulture and Forestry, Nauni. The students from Government Senior Secondary School in Shamrod, Dharja, Gaura and Kotho participated in the event which was organized by the University's Department of Basic Science in collaboration with HIMCOSTE and the National Council for Science and Technology Communication (NCSTC).
Dr. Parvinder Kaushal, UHF Vice-Chancellor was the Chief Guest on the occasion while Dr. DD Sharma, Dean COH&F Thunag was the Guest of Honour. National Science Day (NSD) is observed every year in India on February 28, to commemorate the discovery of the 'Raman Effect. National Science Day was first celebrated on February 28, 1987. The theme for this year's National Science Day is 'Integrated Approach in Science and Technology for a Sustainable Future'. Dr. Nivedita Sharma, HOD Department of Basic Sciences welcomed the participants and talked about the importance of science day. Dr. Ashu Chandel, PI of the programme spoke about the objective behind organizing this event.
Addressing the students, Dr. Kaushal credited science for the development and improvement in the quality of human life. He urged students to bring scientific thinking into their everyday lives because everything was associated with science. He said that students must adopt science to make their lives better and also use it to find sustainable solutions to problems faced by the world. He exhorted the teachers and students not to limit Science to a single day but celebrate it every day by adopting scientific temperament.
Keynote speaker Dr. K Kumar, former professor and head of Department of Fruit Science gave examples of scientific innovations in the field of medicines, communications and agriculture to apprise the students about the innovations made through research. He gave examples of Indian Nobel Laureates whose discoveries have helped to make a difference in the world.
A debate competition on the theme 'Science: Boon or Curse' was also held. Shivani from GSSS Shamrod and Ritika from GSSS Dharja bagged the first prize while Khushi and Riya Mehta from GSSS Kotho bagged the second prize. The third position was bagged by Arushi  from GSSS Dharja and Sunil from GSSS Gaura. Essay competition on the theme 'Integrated approach in Science and Technology' was won by Shivani from GSSS Kotho. Shreya from Govt School Shamrod and Garima from Kotho school bagged the second and third prizes respectively.  A slogan writing competition on Importance of Science in Daily life and Poster competition was also organized. Kajal Kanwar and Janvi Thakur from Gaura bagged the first and second prize in slogan writing competition while Harish from government school Kotho stood third. In poster making, Madhvi and Mehak from Dharja school stood first while Shivani from Gaura and Kashish from Kotho bagged the second and third prizes respectively. Dr. Neerja Rana presented the vote of thanks.