Science City celebrates Azadi ka Amrit Mahotsav
More than 100 students and teachers from different educational institutions of Punjab participated in the webinar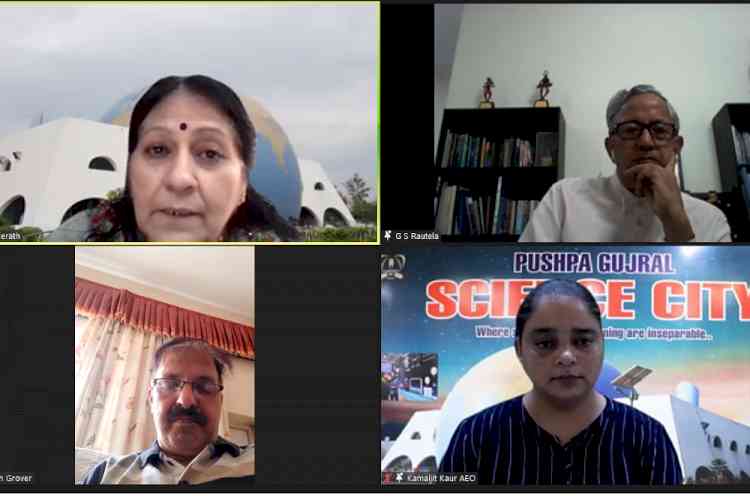 Kapurthala: Pushpa Gujral Science City celebrated Azadi ka Amrit Mahotsav by organizing a webinar on Science Communication and National Development. More than 100 students and teachers from different educational institutions of Punjab participated in the webinar. The event was celebrated to commemorate 75 years of progressive India and the glorious history of it's people, culture and achievements. Sh. G.S Rautela Former DG, NCSM was the key speaker at this occasion. Delivering his talk, he said that Public has increasingly become aware of and interested in scientific development such as medicine, climate change, telecom etc. which directly affect them. However, the perception of some that science and technology are harsh and root cause of environmental degradation and other ill effects on our planet, as well as the inadequate science literacy and gap in knowledge of experts and common people still exists. Science communication, therefore, has crucial role of initiating national development efforts by motivating people to embrace science and technology. It also strives to increase understanding and appreciation of science and technology as useful ways of understanding modern world as well as for informed decision making. Another important role of science communication is empowering people with authentic knowledge and skills for sustainable development, he added.
 Giving introductory remarks at the occasion, Dr. Neelima Jerath, Director General, Science City said that science and technology has contributed significantly to the growth of the nation since the past 75 years where scientific research, combined with favourable public policies, has made India self sufficient in several areas and has led it to the path of becoming a globally  important country. Whereas on one hand  India has harnessed nuclear power, on the other hand, seven defining technologies have contributed towards its self sufficiency in the past 7 decades i.e., the green, white and blue revolutions, the telecom, IT and satellite revolutions and the progress in drugs and vaccines. This has not been possible without intensive basic research and development and adoption of high end technologies. However, there is still a section of the society which is entrenched in superstitions and science communication can  play an important role in creating scientific temper at the grass roots. The  COVID-19 pandemic is a drastic reminder of how important it is for science communication to effectively place public interest at the heart of 'how' and 'what' scientific knowledge is produced, shared and applied.  Science Centres can play a crucial role in assessing what information audiences are receptive to, what issues they take action on, and what behaviors they may be willing to change while contributing to Atma-nirbhar Bharat. Accordingly the Science , Technology & Innovation Policy, 2020 lays emphasis on communication and innovation, especially in the new and emerging disruptive technologies, like AI, ML and IoT.
Dr. Rajesh Grover, Director Science City present on the occasion said that Science and Technology is a symbol of power and prestige of a Nation as well as a measure of its prosperity. In India, 70 % people live in rural areas where masses are still entrenched in the superstitions, therefore, building scientific temper amongst the masses can help to eradicate misconceptions prevailing in the society thus lead Nation to sustainable growth, he added.