School of Law, CT University celebrated "International Literacy Day"
Awareness about legal rights was also delivered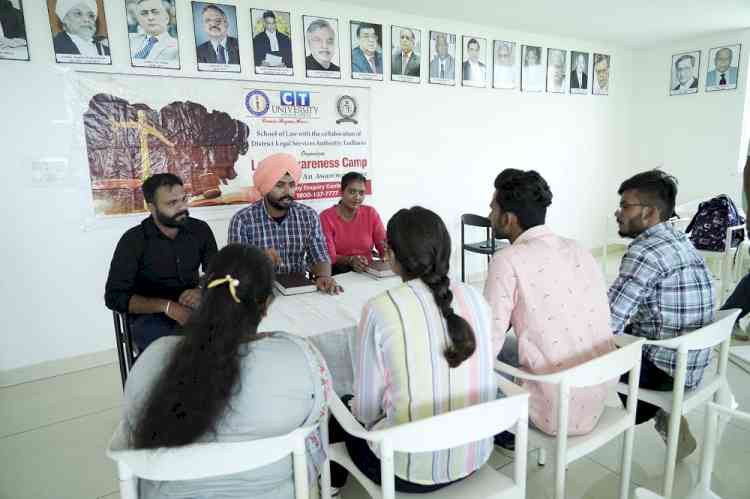 Ludhiana, September 9, 2022 : CT University, Ludhiana, Punjab organized the different events to celebrate the " International Literacy Day" like Legal awareness Drive, Distribution of books in villages and Session on Imparting basic legal education to CTU employees.
 
The objective of the initiative was to create the awareness on education among the students and motivate them for achieving their aims in life by getting the knowledge from the books.
 
Legal Aid Cell was active whole day for providing legal services to the poor, marginalized and weaker sections of the society. Fifty persons approached the cell for free legal aid including faculties, transport staff and other staff of the university, regarding their family disputes regarding the awareness of their services. After assessing the problems advices were given to them.
 
Students of School of law also participated in the event with very zest and zeal. Further the Faculties and students of School of Law distributed the books among the needy students of village Pona. Principal School of Law, Dr. Simranjeet Gill Principle of School of Law, took a session of CTU employees (helpers), transport and security officers whose income is less than 3 lacs per year to aware them about their legal rights and informed them about the schemes and policies given by DLSA.
 
Dr Satish Kumar, Vice-Chancellor, CT University appreciated the initiative taken by School of Law and said that Literacy is the birthright of every human being. Education is a weapon that can deal with every problem and situation through the mind and education is the medicine that cures every life and mental confusion and keeps everyone away from superstitions and conflicts.