Scholarships worth crores awarded to 1530 meritorious students at the Scholarship Award Function at Amity University
Author(s): City Air NewsMr. Amol Chauhan giving scholarship to the student of Amity. The second day of the Scholarship Award Function witnessed the participation of meritorious students of Noida & Greater Noida Campuses, their parents,...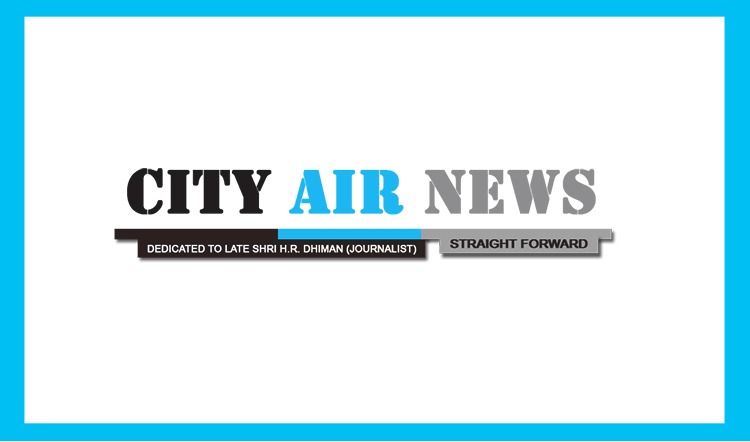 The second day of the Scholarship Award Function witnessed the participation of meritorious students of Noida & Greater Noida Campuses, their parents, faculties, HOI's and HOD's from various departments, guests and other dignitaries at Amity University. A total of 1530 students were awarded the scholarship during the two-day function at Amity University.
On the second day, a total of 771 students from Noida and Greater Noida campus were awarded the Scholarship. During the Programme, 358 students received the Continuation of On Admission Merit Scholarship (50%), 22 students were conferred upon Continuation of On Admission Merit Scholarship (25%), 265 students received the Merit Scholarship, 22 students got the Merit-cum-Means Scholarships, 3 students were conferred upon Sports Scholarship on Admission (25%), 1 student received the Continuation of Sports Scholarship (50%) and 100 students received the Merit Certificate by Mr. Amol Chauhan; Dr. Gurinder Singh, Amity Group Vice Chancellor, Dr. Balvinder Shukla, Vice Chancellor, Amity University Uttar Pradesh, and Dr. Bandyopadhyay, Chairman, Amity Law Schools.
Dr. Alka Munjaal, Chairperson, Scholarship Award Committee apprised that more than 3000 students from across Noida, Greater Noida and Lucknow campuses were awarded scholarships, worth rupees 31 crores, ranging from 20% to 100%. Lauding the students on their success, she said that you have not only made your parents but also your alma mater proud. "Excellence is all about being better than the best and you must always strive to be a better version of yourself", she added.
Shri Vishnu Deo Sai, Hon'ble Minister of State for Steel, Government of India averred that Amity University from the very beginning has encouraged the students to work hard and with diligence by awarding them such scholarships. He expressed his happiness over his daughter – Kumari Smriti Sai, also being awarded the scholarship. He advised the students to set clear goals and dream because clarity of thought and vision facilitates the path towards success. He expressed his gratitude to Amity University for recognizing these brilliant young minds aspiring them towards nation building.
Congratulating the meritorious students, Dr. Ashok K Chauhan, Founder President, Amity Education Group said that you are one of those lucky lot of parents who are getting a chance to be known by the name of your children. He commended the students for their excellent performance in the academics and sports and encouraged them to strive harder in the upcoming semesters. He averred that parents have an indispensable role in the success of their ward, and therefore, the larger share of credit goes to them for inculcating the values in their children that have made them successful.
Addressing the students, Dr. Atul Chauhan, Chancellor, Amity University, Uttar Pradesh appreciated the scholarship recipients and called them as 'special one's' who have some extra-spark in them. He averred that intelligence is a privilege which must be used for the good of mankind, and therefore you must use your brilliance in the service of the nation and the humanity. He lauded the students for the hard work they had put in to bring laurels to their alma mater and their family and firmly asserted that these meritorious students would become the leaders of tomorrow.
Dr. Monica Verma, a proud parent of an Awardee said that it is always a special moment when you see all the hard work and sacrifices put in by your ward paying off. She expressed her gratitude to the Amity University for acknowledging the hard work of the students honoring them with these prestigious awards.
Mr. Giriraj Sharma, a proud grandfather of a Scholarship Awardee averred that Amity University has inculcated human values in their students about which their parents would always be thankful. He shared his views about her granddaughter's excellent performance at the university and gave all the credit to Amity for making the students a better version of themselves.
Niti Kalia, a Scholarship recipient expressed her gratitude to her faculty members and professors of Amity University, for motivating her to work hard and helping her being passionate towards her dreams and goals. She remarked that Amity has played a crucial role in shaping her personality and improvising her as a person in the span of her 4-year course.
Sharing his views, Shahbaz Khan, an MBA student and Scholarship recipient, said that in during is 2 years of MBA education at Amity he has inculcated in him those values which would help him grow as a person throughout his life. He shared the message of the Founder President – "Don't Relax, because if you do, there are already several people behind you, ready to overtake you within seconds." "Relentless hard work and belief in myself and the Almighty have been the keys to my success," he added.