SCD Govt College alumni's crusade against drug menace
Principal Dr Sandhu was all praise for college alumni for their war against drugs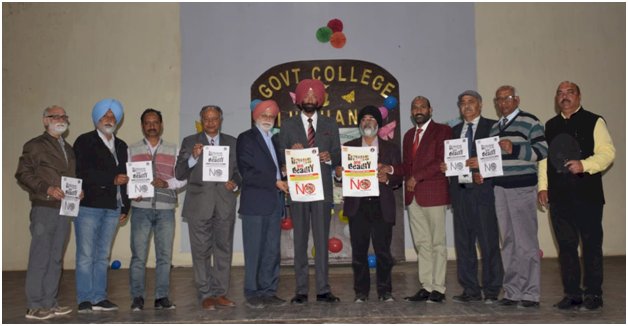 Shivdular Singh Dhillon IAS,College Alumnus,Principal Dr Sandhu and other alumni are seen in the picture.
Ludhiana: The Alumni of SCD Government College, Ludhiana has strongly supported the governmental efforts in its fight against drug menace which is trapping innocent youth in the region .The Alumni of the college led by its Alumnus Shri Shivdular Singh Dhillon, IAS (Studied in the college in 1981) and the college Principal Dr. Dharam Singh Sandhu released an impressive poster against drugs to be put in the college campus notice board permanently. The colourful poster reads, `Drugs are Deadly-Say no to drugs'. In this crusade, others who joined the move were other college Alumni and also industrial entrepreneurs such as S S Bhogal of Bhogal Industries and Ranjodh Singh of G S Auto group and many other old students viz,Brij Bhushan Goyal, an ex-Banker, Alumnus Dr, Kamal Kishore, Prof. Dr. P D Gupta, O P Verma PCS Retd and Alumnus Prof Parmveer.
Alumni coordinator, Brij Goyal made a special appeal to the youth in the  poster message to 'beware of the drug trap of the drug cartels laid petty drug peddlers and  pledge to fight the drug menace with all their might by exposing black sheep in the society involved in this sorry business. Alumnus Shivdular Singh Dhillon, IAS who is also deputy commissioner of Amritsar was specially invited by the college to deliver the first ever lecture of the Centenary Celebrations Illustrious Alumni Lecture Series. He kept the students of the college spell bound while sharing his experiences in his career progression and asked them to remain in total control of their lives so that they don't repent later.
Principal Dr Sandhu was all praise for the college alumni for their war against drugs.