SBS Nagar launches mobile vans to sensitise voters at booth level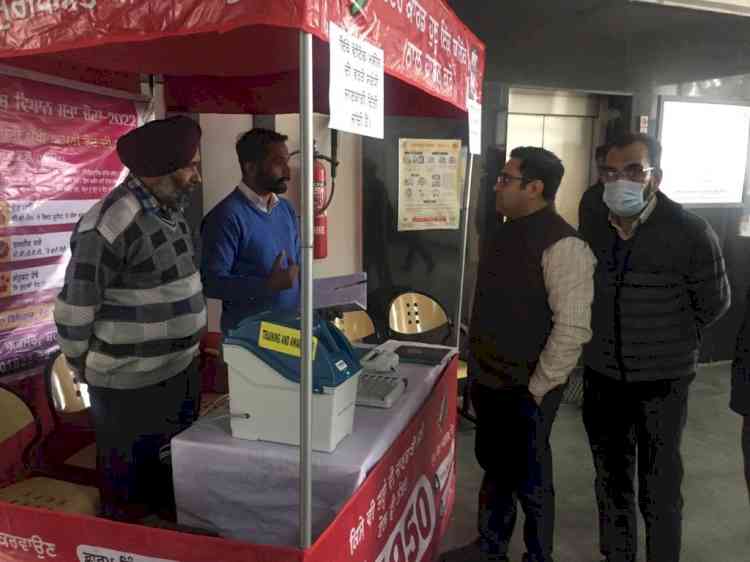 Nawanshahr, December 1, 2021: With a view to  make the voters familiar with working of  EVMs and VVPATs, District Election Office, Shaheed Bhagat Singh Nagar, today, launched awareness vans for all the polling booths.
Divulging details, Deputy Commissioner-cum-District Electoral Officer, Vishesh Sarangal said that Shaheed Bhagat Singh Nagar District had a total number  of 614 booths and the EVM education and awareness drive launched today, would cover all the booths in coming days. He said the main motive behind the voter education and awareness campaign is to sensitise the voters regarding  working of EVMs and VVPATs by conducting mock poll exercise. He said that supervisors and Booth Level Officers have been asked to ensure the maximum reach of these mobile vans to the people so that we can complete this exercise well in advance.
Sarangal further said that as per the directions of Chief Electoral Officer, we have initiated the campaign under Systematic Voter Education and Electoral Participation (SVEEP) to surpass the state average polling figure of 77 percent recorded last time.
"We are targeting those villages particularly where the percentage of polling was witnessed below state average", added District Electoral Officer.
Besides it, adopting another way of sensitisation, a message on behalf of the deputy commissioner has also been flashed in these villages through announcements from religious places and  Panchayats.
Deputy Commissioner said that earlier four demonstration centers were also set up in the district, one at District Administrative Complex and others at SDM offices under Voter Education and Awareness drive to keep the voters updated about the functioning and use of EVMs.
Photo Caption: DC Vishesh Sarangal Visits EVM and VVPAT Demonstration Center, set up at District Administrative Complex, Nawanshahr.