Saving lives is paramount than anything
Ashu to industrialists/traders/markets' unions over deciding stringent measures to crush virus in virtual meet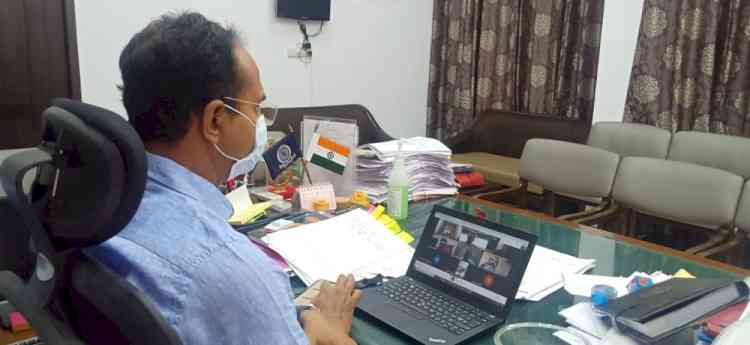 Ludhiana: Calling the current Covid situation is beyond serious in Ludhiana which is engulfed in a devastating surge of the pandemic, Food, Civil Supplies & Consumer Affairs Minister Bharat Bhushan Ashu on Friday said that saving lives is paramount than anything and we all need to stick together in this trying times.
Presiding over a virtual meeting with MLAs Surinder Dawar, Sanjay Talwar, Mayor Balkar Singh Sandhu, Deputy Commissioner Varinder Kumar Sharma, Commissioner of Police Rakesh Agrawal, industrialists and associations of traders, transporters, furniture, transport, garments, mobile, jewellers, restaurants, hotels etc, the Cabinet Minister said that no doubt shutting the shops/business hurts financially and hits hard but considering grim conditions, stringent restrictions needed to be imposed to tide over Covid-19 at the earliest to save precious lives.
He gave a clarion call to them to put a collective fight for curbing the spread as families are losing breadwinners/ young members, in this wave of Covid more deadly than the earlier one.
The Minister told that almost all level-III and level-II beds are occupied in the hospitals and health infrastructure is severely strained due to the continuous inflow of patients in Ludhiana. He said the administration is already on task to create more beds in other places for the best treatment of patients.
Ashu emphasized to halt the further transmission of infection, harsher steps must be taken without much delay as some of the people are still violating the guidelines of the Punjab Government when the situation has reached on alarming stage.
Deputy Commissioner Varinder Kumar Sharma and Commissioner of Police Rakesh Agrawal said that it is high time for people to abet the stress of healthcare and other frontline force by observing Covid appropriate behaviour.
They exhorted all the representatives of various associations to work together and in tandem to contain the virus.