Sanskriti KMV School students scale to new heights
100 per cent XII CBSE Board Result 2020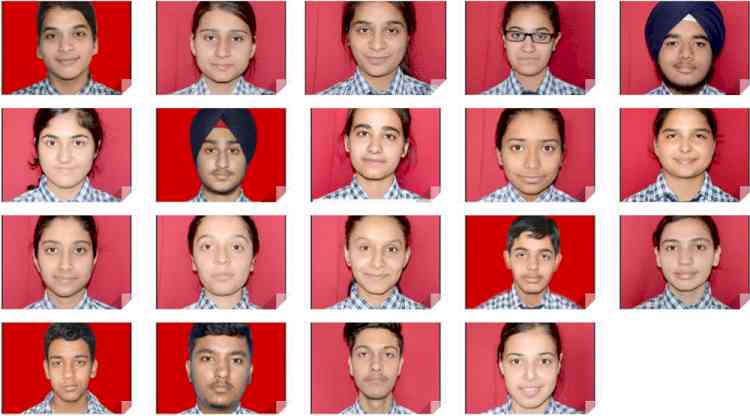 Jalandhar: Sanskriti KMV School students once again brought laurels to the institution and their families as the CBSE aired XII grade board result. With the 100% result in XII CBSE Boards in all the streams of 138 students, school once again upholds its honour. 
Streamwise toppers are as under: 
Medical –97.8%  scored by  Sonika  
Commerce- 96.6% scored by Chahatpreet Singh 
Nonmedical- 95.6% scored by Ritika Malhotra  
Humanities – 91.8% scored by Snehpreet Kaur 
Subject wise highest score is as follows –
•    English – Rahul Arora 100%
•    Biology- Sonika 99%
•    Chemistry- Sonika 98%
•    Physics- Sonika, Harmit Singh,  Ritika Malhotra 95%
•    Maths- Manjosh Badla, Harmit Singh and Arrnab Minhas 95%
•    Business Studies – Chahatpreet Singh and Harshita Dhir 97%
•    Computers- Chahatpreet Singh 97%
•    Accounts- Chahatpreet Singh, Garima Kapoor and Isha Choudhary - 95%
•    Economics-  Chahatpreet Singh 97%
•    Sociology- Snehpreet Kaur- 92%
•    Hindi- Snehpreet Kaur- 92%
•    Political Science-  Yuvraj Verma 90%
•    Painting- Abdul Rehman, Ginny Madar, Manveer Kaur 100%
•    Dance- Harshita Dhir 100%
•    Music Vocal- Dhiraj Hira  99%
•    Physical Education – Ankita Sharma 99%
The over all statistical status of score is:
Above 90%- 19 students 
85%-90%- 17 Students
80%- 85%- 13 students
75%-80%- 29 students
70%-75% -22 students
55%-70%- 38 students
Chander Mohan, President and Atima Sharma, Manager Sanskriti KMV School, heartily congratulated Rachna Monga, Principal and mentioned their heartiest wishes to the school, students and the parents for the  applaud able scores in XII CBSE Boards.
Principal Rachna Monga, extended her heartiest wishes  to the merit scorers and all other students for the praise worthy  academic performance.  She quoted that it is the dedication, discipline and consistent efforts of the students, teachers, parents and the school as a whole that has borne excellent result and set another benchmark for the future school generation.