Sankalp Divas celebrated at Ramgarhia Girls College
The students participated online in the ceremony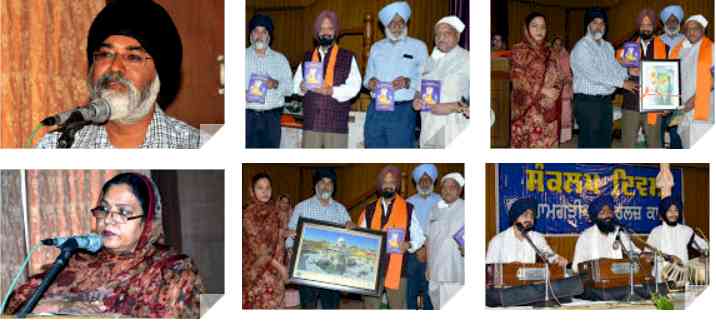 Ludhiana: Today, to seek the blessings of almighty in the beginning of the new academic session 2020-2021, Sankalp Divas was celebrated at Ramgarhia Girls College with Bhog of Sri Sehaj Path at Baba Gurmukh Singh Hall. The students participated online in the ceremony.

Principal Dr. Inderjit Kaur welcomed all the sangat. The students of PG Department of Music mesmerized everyone with their Shabad gayan. The Principal welcomed the fresher students in the college and motivated them to set high goals and work tirelessly to achieve that. President Ramgarhia Educational Council S.Ranjodh Singh addressing the students who joined on the online platform asserted that let's all pray together to Waheguru that normalcy may prevail again in the world and may we all be together once again to receive and impart education. He also guided students to work hard and gain success in every field of life. To mark the 550th Birth Anniversary of Sri Guru Nanak Dev Ji, book of Prof. K.B.S. Sodhi about the four religious journeys of Guru Nanak Dev Ji namely 'Ek Anokha Mahakav' was released by S.Ranjodh Singh and PG Department of Punjabi.  Talking about the book he said that it is an epic depicting the various experiences of the first Guru during his Udasis.

Former Principal S.Tarsem Bahia Ji praised the book by saying that this epic is a document which contains very useful information not only to Sikh community but to every follower of Guru Nanak in the entire world. Principal Dr. Inderjit Kaur also expressed her views that this book is not only a religious epic but also a historical document that records the Udasis of Guru Nanak Dev Ji in verse form which shows the efforts of the author. On this occasion Ardas was made to the almighty to save the world from the prevailing situation of Corona Virus and bless human beings with strength and faith. General Secretary of Ramgarhia Educational Council S.Gurcharan Singh Lottey also wished good luck to all the students and thanked all the guests.