Sanjivani Doctors calls for 'early detection, early treatment' to fight covid-19
Sans consultation of doctors, steroids could prove fatal, warns Sanjivani Group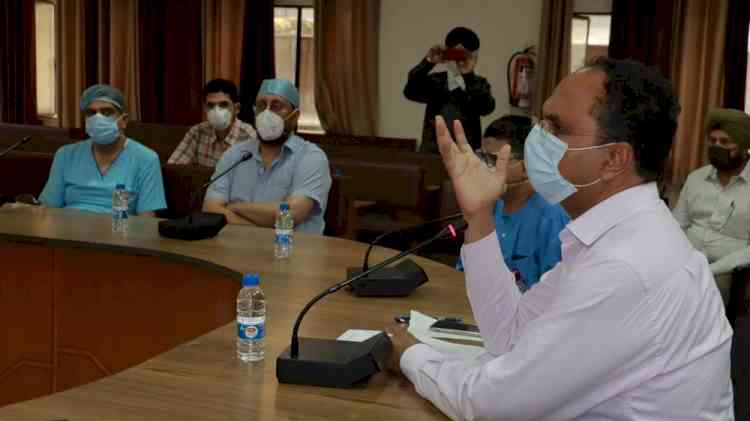 Ludhiana: With an aim to cut down the Case Fatality Rate (CFR), Sanjivani Group, a team of medical experts on Tuesday, warned the public that use of steroids without consultation of doctor for the treatment of COVID-19 could prove fatal.
The group of Sanjivani doctors including Dr Bishav Mohan, Dr Rajesh Mahajan, Dr HS Pannu, Dr Mary John and Dr Sandeep Chhabra were interacting with the media during a press conference at Bachat Bhawan here. Deputy Commissioner Varinder Kumar Sharma and Additional Deputy Commissioner (ADC Development) Sandeep Kumar were also present on the occasion.    
Dr Bishav Mohan, while addressing media advised people to be wary of using steroids and other self-medication without the consultation of doctors as it could prove fatal for them. "There have been reports of misuse of steroids in patients with mild COVID-19 symptoms when they only require simple medicines like Vitamin C & D, Zinc, an anti-allergic or mild antibiotic for treatment while the majority of people recover on their own," he said.

Dr Pannu said that steroids are like a double-edged sword which could give relief initially but later it worsens the condition of a COVID-19 patient and lead to decline the saturation level resulting which doctors have to put the patient on a ventilator. He said that the steroids were required in later stage and if people use steroids in the initial stage the drug becomes ineffective.
Dr Rajesh Mahajan urged people to keep monitoring their saturation level using oximeters and immediately consult a doctor if they found their saturation level is below 95 per cent. He said that doctors feel helpless when patients come to them when their saturation level come down to 70-75 per cent. 

Dr Mary John urged people for early testing for COVID-19 as this was the only way to fight the pandemic. She said that this is the time for more precautions as dengue season has started and people should consult doctors if they have even mild symptoms.

Use PCR as first modality to diagnose COVID-19 
The team of doctors also discouraged the overuse of the CT Scan to diagnose COVID-19 and asked people to use PCR as the first modality to diagnose COVID-19. They said that CT Scan should only be used in a certain condition when PCR is not available or clinical condition of the patient and PCR report does not match.

Meanwhile, Deputy Commissioner Varinder Kumar Sharma appealed the public to follow the doctors advise and don't take any wrong medicine over the counter which could further deteriorate the health. He said that in a good signal the COVID-19 cases have seen a decline from last few days but advised the people to continue adhering to safety protocols to avoid the second wave.