Sanjeev Arora MP meets Union Sports Minister Anurag Thakur 
Demands release of maximum funds for Punjab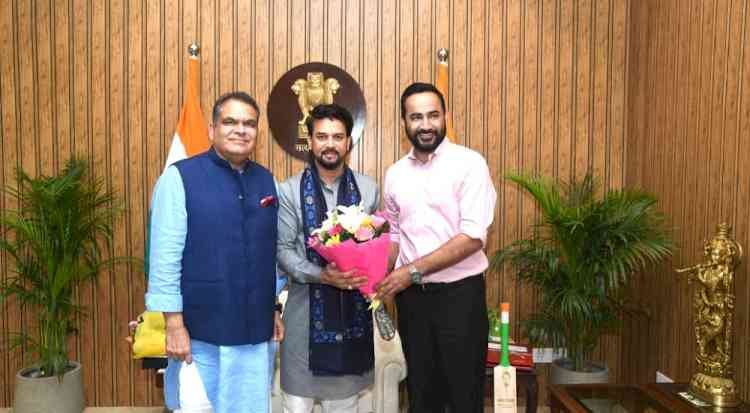 Ludhiana, August 6, 2022: MP from Punjab Sanjeev Arora accompanied by Punjab Cabinet Minister Gurmeet Singh Meet Hayer met Union Sports Minister Anurag Thakur in Delhi today and discussed in detail about further strengthening of sports in Punjab.
Giving more information in this regard, Arora said during their meeting they demanded that maximum central funds be released for Ludhiana and other districts of Punjab for further encouraging sports.   
The Union Minister was apprised that Punjab has an important place in the sports sphere. Still, Punjab under the leadership of Chief Minister Bhagwant Singh Mann is committed to become a leader in sports.  
Arora said Anurag Thakur assured to accede to their demand and said his Ministry would release the desired financial assistance for Punjab to create a new era in the field of sports.  
Meanwhile, Arora also said Punjab has produced many state, national and international players so far. He pointed out that it is high time to encourage youths of the state to join sports because a sports person always keeps himself away from drug addiction and other social evils.  A sports person always plays a constructive role in nation building, he added.