Sanitation workers felicitated by Urban Development minister in Dharamshala
In this crisis of corona infection, these employees are playing their important role to maintain cleanliness of Dharamshala town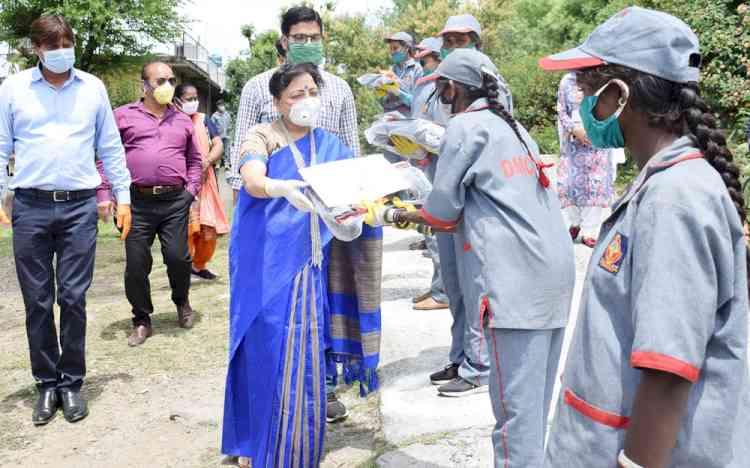 Dharamshala: Urban Development, Housing and Town Planning Minister Ms Sarveen Chaudhary on Monday felicitated the sanitation workers working in the wards of Dharamshala at Community Building, Bhagsunag, Siddhbadi and Kotwali Bazar in Dharamshala Municipal Corporation area.
She said, "In this crisis of corona infection, these employees are playing their important role to maintain the cleanliness of Dharamshala town. In the midst of a lockdown to prevent corona infection, these workers are consistently performing their responsibilities well, in fact, they are true Corona warriors. Today, where we are all imprisoned in homes to keep ourselves safe, these cleaners come out of the house every morning to fulfil their responsibilities and make the entire ward clean."
She said that today these workers are the second form of God for us. These are  sanitary workers, medical staff, bankers, electric & water supply maintainers and police personnel , who working in  our area and saving the common people from the dreaded virus called corona, due to their contribution, every section of society is indebted to them.
Kishan Kapoor, Lok Sabha member from Kangra-Chamba has requested the people of the area  to be cautious towards the Corona epidemic. He said , " the number of corona victims has increased due to people coming from outside the state in Himachal Pradesh, which is a matter of great concern. Kangra district alone have received more  than 40,000 people from other states and this number may increase further in the near future." He added that in such a situation, there is a high probability of spread of corona infection, for which it is necessary that we follow the guidelines issued by the state and centre government. He said that mandates such as getting out of the house by putting on a mask and maintaining social distance should be compulsorily followed.
"We have to improve our lifestyle by becoming aware of this worrisome disease spreading in the world and all over the country. Of course we can only get rid of this epidemic," added Kapoor.
On this occasion, MLA Vishal Naihari of Dharamshala Assembly Constituency, Mayor of Municipal Corporation Davindra Jaggi, Upmahapur Onkar Naihariya, Councilor Tjinder Kaur, Commissioner Municipal Corporation Pradeep Thakur, Assistant Commissioner Municipal Corporation Dr. Madhu Chaudhary, Executive Engineer Sanjeev Saini, Rohit Chaudhary, Balvir Safai workers including Chadha and Siddharth were present.