Sangeeta Arora from The Women Club 'Udaan' won Grehlakshmi Queen Title
Bumper prize was won by Shehzadi Mahindra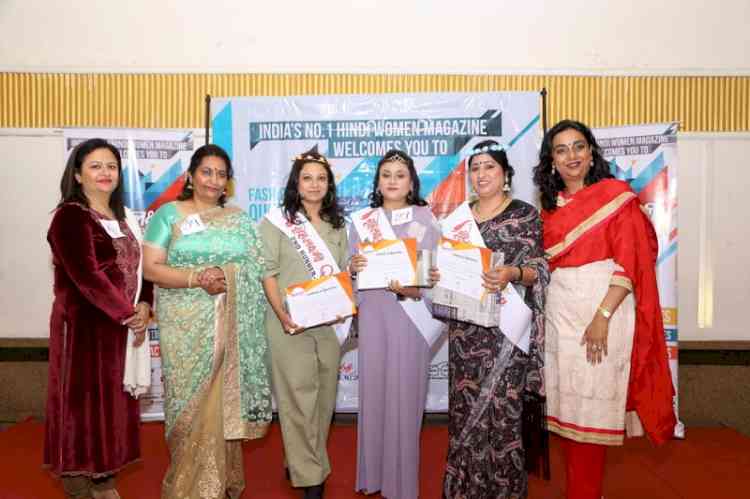 Ludhiana: The Ladies of The Women Club 'Udaan' participated and joyfully enjoyed the Women's Day Programme at Grehlakshmi Dopahar Season – 5. 
The Club ladies enjoyed the fun filled activities at Grehlakshmi Event. They enjoyed Fun Games, Lucky Dip, Early Bird, Bumper Prize, Ramp Walk etc. All the ladies were looking stunning on ramp walk. 
The Chairperson of the club Ms Komal Arora and the President Ms Payal Mahindra welcomed all the ladies and wished Women's Day to everyone. Swach Bharat oath was also taken by all the ladies.
Grehlakshmi announced different Titles: 
1.    Ms 100% Indian Women Grehlakshmi – Ms Rajni Bangia
2.    Ms Fit & Active Grehlakshmi – Ms Gulshan Rani
3.    Ms Gracefully Old Grehlakshmi – Ms Reenu Aggarwal
4.    Ms Beautiful Smile Grehlakshmi – Ms Sweety Kapoor
5.    Ms Decent Grehlakshmi -  Ms Rajni Dua
The Bumper Prize was won by Ms. Shehzadi Mahindra
Ramp Walk Queen Winner –
Grehlakshmi Queen - Ms Sangeeta Arora
First Runner up - Ms  Sonia Tiwari
Second Runner up - Ms. Neha Gupta