Sahnewal Sr Sec Girls School gets new basketball ground
Courtesy NRIs and MC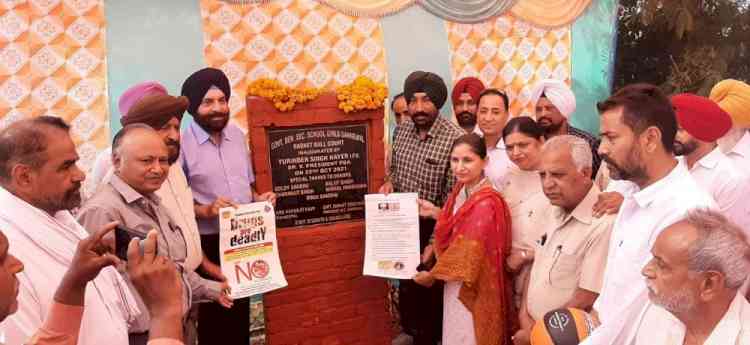 Ludhiana, October 22, 2021: In an impressive inauguration ceremony at Sahenewal, its Govt Girls Sr Sec School got a newly built Basketball ground which has been built with the assistance of town's NRIs and municipal council president Sukhjit Singh Hara. Girls also played an exhibition basketball match on the occasion.
Yurinder Singh Hayer (IPS) a Sr Vice President of Punjab Basketball Association presided over the function in the presence of Teja Singh Dhaliwal Gen Sec.PBA and DBA officials, school teachers, students and town's prominent personalities. NRIs viz Charanjit Singh, Baljit Singh,Gurjit Singh,Dharamjit Singh,Bhupinder Bindi,Nirmal Randhawa , Mohinder Singh, Satinderjit Singh and  Goldy Sandhu contributed in the project. Town's councilors Ramesh Kumar, Shamsher Singh, Harprit Singh, Jagdish Singh, Block Samiti member Purshottam Singh, Sarpanches Avtar Singh and  Gurdip Singh ETO Sampuran Singh also were present .
NRIs were honored on the occasion by MC and school management.
The Chief Guest Hayer while thanking the NRI fraternity MC president said that PBA will provide all support for promotion of basketball in every village school so that our youth elevates to the national and international positions in this game. He also appreciated efforts of Principal Karamjit Kaur for involving school teachers for promotion of sports and asked students to further beautify the school with more flower plants and trees. An impressive poster 'Say No To Drugs and Yes to Sports' was also released on the occasion as prepared by Brij Goyal of DBA. 
School principal while thanking all the guests and MC members appreciated the efforts of Jagjit Singh,Suman Goyal, Lalit Verma,Manpreet Singh and Navdeep Pathak school teachers who overlooked the laying of ground and the function arrangements .