Safai Karamcharis should not be asked to do personal works
Safai Karamchari Commission Punjab Chairman holds meeting with officials at Nagar Council Office Jagraon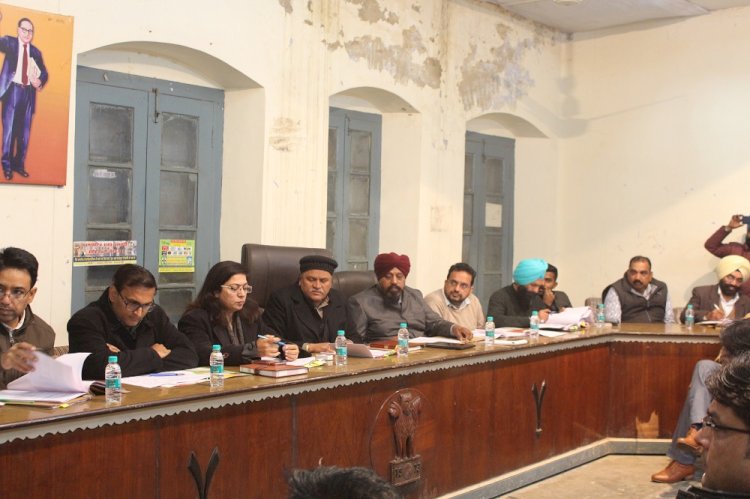 Jagraon (Ludhiana): Safai Karamchari Commission Punjab Chairman Mr Gejja Ram Valmiki today directed the administration to ask the Safai Karamcharis to carry out only cleaning jobs and should not ask them for other or personal works. He warned that if any official is found indulging in it, then strict action would be taken against them. He said this while chairing a meeting with officials and Safai Karamcharis at Nagar Council office, here today.
Commission Vice Chairman Mr Ram Singh and Member Mr Inderjit Singh, ADC (Jagraon) Mrs Neeru Katyal Gupta, SDM Mr Baljinder Singh, DDLG Mr Amit Bamby, District Welfare Officer Mr Rajinder Singh, District Public Relations Officer Mr Prabhdeep Singh Nathowal, Assistant Civil Surgeon Dr Balwinder Singh, officials from the police department, other officials of district administration and a large number of Safai Karamcharis were also present in the meeting.
While issuing necessary directions, Mr Gejja Ram Valmiki said that it has come to his notice that some officials ask the Safai Karamcharis to carry out less important as well as personal works, which is against the law. He directed the police department to register an FIR against officials of Nagar Council Jagraon, who failed to give due promotions to the 27 Safai Karamcharis between years 2008 to 2019. He also announced to form a three-member committee to look into the matter.
He further said that the Safai Karamchari Commission is committed for the welfare of safe karamcharis of the state. He said that all pending issues/demands related to Safai Karamcharis would be redressed on priority basis. He directed all the departments to fill vacant posts of safai karamcharis on priority, eligible safe karamcharis should be regularised and the remaining safai karamcharis should be given due benefits as per DC rate.
Mr Gejja Ram Valmiki said that if any karamchari dies while on duty, all dues and benefits should be provided to his family within time. He also said that the payments to the safai karamcharis should be done before making payments to the contractor and government officials. Similarly, timely payments should also be made to the Mohalla Sudhar Committees on priority basis.
He said that the mid day meal cooks in government schools should not be asked to carry out cleaning work, because it might lead to some disease for the students. He also directed the elected representatives of Nagar Council to not ask Safai Karamcharis for any less important or personal works. And if any action is to be taken against the safai karamchari, then due process as per law should be followed and only government officials have the right to do so and not with politicians. He also directed that facilities such as provident fund, health facilities and others should be provided to the safai karamcharis. He said that the garbage dumps should be set up only at designated places so that the safai karamcharis do not have to go to far off places for the disposal of garbage. And the safai karamcharis who are involved in doing personal works of officials, their salaries should be taken back.
He asked the officials to ensure that the regular health checkup camps as well as camps for awareness about welfare schemes for safai karamcharis should also be organised. He also appealed to the representatives of Safai Karamchari organisations to come forward and raise issues related to them with the commission. He appealed to the safai karamcharis to ensure that the benefits of Right to education are passed on to the children of safai karamcharis. He asked the officials to provide safety kits to the safai karamcharis and the evil of manual scavenging should be abolished completely.