SAD holds massive motor-cycle rally to Hussainiwala
Pledges to wipe out all those befooling Punjabis in the name of Shaheed Bhagat Singh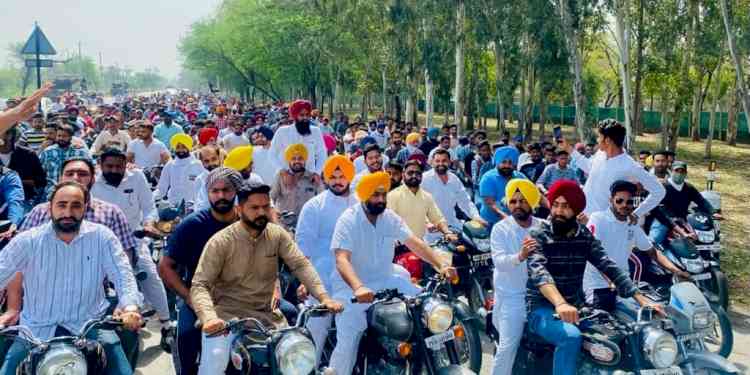 Ferozepur: The Youth Akali Dal (YAD) today held a massive motorcycle rally from here to Hussainiwala to pay homage to Shaheed-e-Azam Bhagat Singh on his martyrdom day and took a pledge to wipe out all those who were trying to befool Punjabis in the latter's name.
The motorcycle rally, which was led by YAD President Parambans Singh Romana, witnessed a parade of more than a thousand motorcycles to the last resting place of the martyr. During the course of the rally hundreds of people came out of the roads to welcome the rally as well as express solidarity with the Shiromani Akali Dal (SAD).
 
Parambans Romana took on Punjab AAP unit President Bhagwant Mann for backstabbing the ideals of the great martyr by trying to emulate him by wearing a 'basanti' coloured turban but going against the essence of the principles laid down by the Shaheed by selling off the interests of Punjabis to corporate houses. "Mann signed off the interests of farmers by giving his assent to the Essential Commodities (Amendment) Act in a recent meeting of the parliamentary standing committee on Food and Consumer Affairs. He did the same when a Bill on the same issue was brought in for voting in the Lok Sabha by staging a walk out and even falsely claiming no voting had taken place. All this makes it clear that he has made a dirty deal with the Adanis and Ambanis which youth who follow Bhagat Singh's principles will never tolerate. We pledged to expose him and other such impersonators".
Romana also condemned the Congress party as well as its chief minister Capt Amarinder Singh and finance minister Manpreet Badal who had misused the name of the martyr in their election manifesto and disrespected him. He said the Congress party had under the Shaheed Bhagat Singh Rozgar Sirjan Yojna promised to implement three schemes – Apni Gaddi Apna Rozgar entailing easy finance for four wheelers, Hara Tractor entailing provision of 25,000 tractors to youth on easy installments and Yaari Enterprises to encourage youth to set up their own businesses. "The Congress government has reneged on each and every one of these promises. We will now take it to task and force it to tell youth why it had failed to implement the promises made to them including Rs 2,500 per month unemployment allowance besides the promise of ghar ghar naukari".
The YAD members also took an oath at the 'Samadhi Sthal' of the martyrs Bhagat Singh, Sukhdev Thapar and Shivaram Rajguru at Hussainiwala to work for the welfare of Punjab and Punjabis and expose all those who had turned against the 'soch' of the martyrs and betrayed their ideology. There was overwhelming support to the rally from nearby villages with people congregating in large numbers at the 'samadhi sthal'