SAD asks Ram Vilas Paswan to depute central team to investigate multi-thousand crore scam in distribution of central food material
Sharanjit Singh Dhillon asks Bharat Bhushan Ashu why he is afraid of a transparent inquiry into the food scam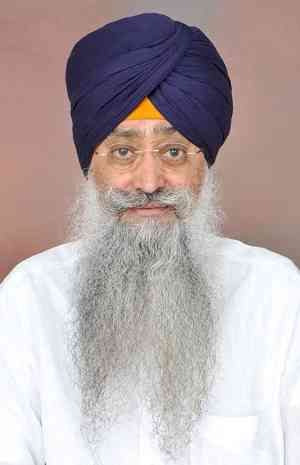 SAD legislature wing leader Sharanjit Singh Dhillon.
Ludhiana: The Shiromani Akali Dal (SAD) today urged Consumer Affairs, Food and Public Distribution minister Ram Vilas Paswan to depute a central team to investigate the multi-thousand crore scam in distribution of food material sent as central relief to Punjab even as it asked food and civil supplies minister Bharat Bhushan Ashu to express his readiness for the probe if his hands were clean and he had nothing to fear.
Lambasting Bharat Bhushan Ashu for issuing cheap statements filled with a sense of false bravado with the belief that the law could not catch up with him, SAD legislature wing leader Sharanjit Singh Dhillon said "once a transparent inquiry is conducted into the entire scam the skeletons in your closet will come tumbling out. The massive bungling supervised by your ministry under which a large portion of wheat and pulses meant for 1.4 crore people constituting half of the population of the State was diverted to Congressmen will be out in the open. Your false bravado will then crumble and you will have to face the music".
Challenging Bharat Bhushan Ashu to come out with a statement agreeing to the audit of the entire food stock as well as stock taking by a central team on the ground, Mr Sharanjit Dhillon asked him why he was afraid of a transparent audit. "It is obvious that you have recorded thousands of disbursals which never took place. Wheat and pulses stock has been shifted to the residences of Congress leaders and now you are afraid that concrete evidence of this atrocity against the poor and suffering multitudes will come out in the open. That is why you are trying to divert the attention of the people by playing holier than thou".
Asking Ashu to remember that it was the people who had elected him to office, the SAD leader said the very fact that the minister had denied ration to lakhs of labourers who remained hungry for weeks with one of them even starving to death would always haunt him. "It was within your command to open the food stocks of the State and ensure lakhs of labourers needed by the factories as well as farmers of the State remained in Punjab. But instead of doing this, you succumbed to greed and allowed Congressmen to divert this food stock. This is why you are not agreeing to any free and fair inquiry into the multi-thousand crore scam.
Meanwhile Mr Dhillon while appealing to Mr Ram Vilas Paswan to expedite the inquiry in the food relief scam said the central ministry was already abreast with the fact that the State food and civil supplies ministry had distributed only one per cent of the food material received from the centre in the month of April. He said even now the distribution was lackluster and was being mismanaged because Congressmen were commandeering the entire operation.