SAD along with traders and industrialists to hold state-wise protest in front of PSPCL Offices on power bill issue
Power bill of lockdown period should be immediately withdrawn: NK Sharma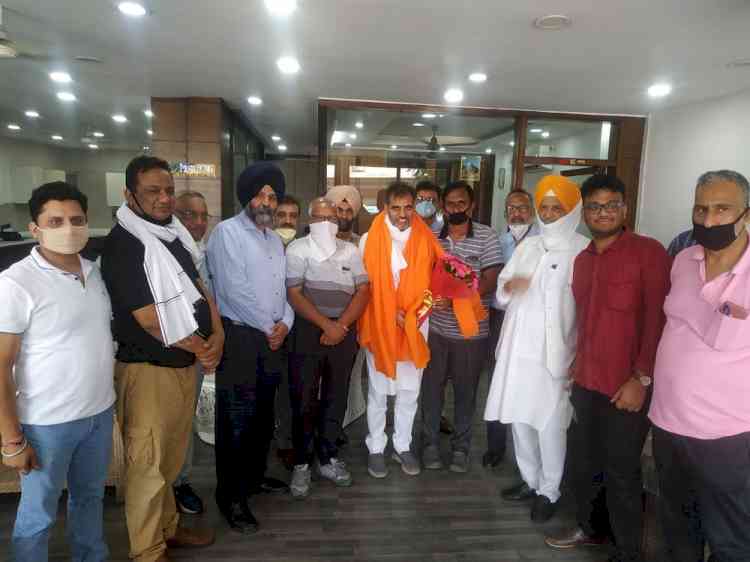 Ludhiana: The Shiromani Akali Dal along with traders and industrialists from state will hold statewide protests in front of Punjab State Power Corporation Limited (PSPCL) offices demanding immediate withdrawal of power bill sent to traders and industrialist for the lockdown period.
This was decided in a meeting of traders and industrialist presided over by the SAD Trade and Industry wing  President and party Spokesman Mr. NK Sharma. Mr. Sharma said that it is most shameful that the PSPCL under direction from the state government has sent bills based on average to the traders and Industries for the period of three month lockdown. He said that date for protests will be announced soon. He said that on hand these businesses were closed down and failed to earn a single penny but the PSPCL showing utter disregard to human values has sent hefty power bill to them. He said that we are demanding immediate withdrawal of these bill and allow traders and Industrialists to pay their future bill in installments during next six months. He said that no interest should be charged for this period.
The SAD leader said that instead of providing relief to the traders and Industrialist with financial package government is strangulating them with these hefty bills. He said that not only power bill alone but Property tax, water and sewerage bills should also be waived for the lockdown period. He said that these sections of society are trying hard to revive after relaxations given in the lockdown but it will take months for them to revive and they are adjusting in a new normal.
Mr. Sharma said that the Congress led by Capt. Amarinder Singh has ruined the trade and Industry in the state. He said that instead of helping them in establishing and running their businesses, the government has even backtracked on poll promises made on the eve of 2017 Assembly elections. He said that the SAD-BJP government led by S. Parkash Singh Badal and S. Sukhbir Singh Badal as his deputy had invited Industry to the state by providing them several incentives but this government has forced them to think otherwise.
Mr. Sharma also said that due to exodus of labour most of the Industry in Ludhiana and other parts of the state is shut now. He said that major issue is repartition of labour from UP and Bihar as most of them want to return. He said that he will take up this issue with Union Cabinet Minister Mr. Harsimrat Kaur Badal so that trains or buses could be arranged for repartition of labour.
Other prominent present on the occasion included Hira Singh Gabria, Madan Lal Bagga, Gurmeet Singh Kular, Amarjit Singh Purewal, Ashok Makkar, Satish Malhotra, Monoj Makkar, Gurmeet Singh, Pardeep Kumar Singla, Ramesh Pruthi, Ankush Sharma, Bhushan Jain, Dr. Pawan Sharma, Jappl Kumar and Manmohan Kaura besides others.