RSS chief bows to Netaji
Terms Bose a symbol of courage, sacrifice and patriotism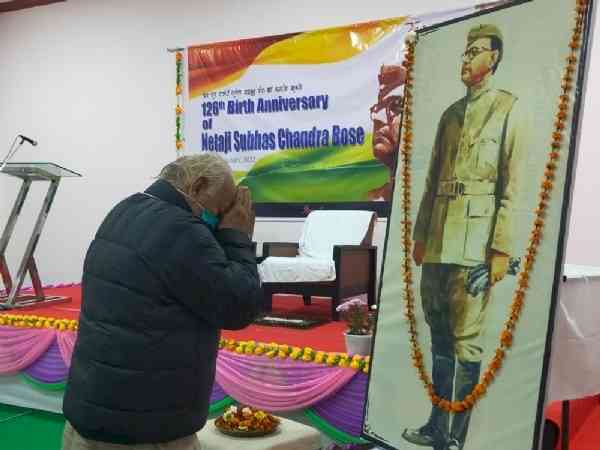 Guwahati, January 23, 2022: 
Paying floral tribute to Netaji Subhas Chandra Bose on his
125th birth anniversary, Rashtriya Swayamsevak Sangh (RSS) chief Dr
Mohan Bhagwat commented that Bose was a symbol of courage, sacrifice
and patriotism, who dedicated his entire life for the freedom
expectant people of Bharat.
Addressing a distinguished gathering in Imphal on 23 January
2022,  Sarsanghchalak Bhagwat pointed out that even though the RSS
celebrates Netaji's birth anniversary regularly this year's
celebration is important as it falls with the 75th year of India's
independence, for which Netaji sacrificed his entire life.
"For the sake of independence, Netaji left home to go abroad and
established a military (Indian National Army) to fight against the
British. His life is an exemplary struggle for all of us. Netaji lived
his life for a mission," said the RSS chief, adding that Netaji not
only challenged the British Empire but also formed the government of
independent India.
Netaji connected all the Indians irrespective of their caste, creed
and religions. As he was elected president of the Congress, there
should be some basic reasons. In fact, the majority was with Netaji to
lead the argument against the imperialist forces, but somehow he had
to withdrew from the responsibility, stated the Sarsanghchalak.
"So is patriotism and a clear idea of the unity of one's country along
with a tendency to surrender everything for it. Gave everything,
nothing for himself, everything for the country, such is Netaji's
life. His inspiration was also spiritual motivation," opined Bhagwat
adding that Netaji sacrificed everything for the whole of India, which
is his mother land.
The Sarsanghchalak arrived in Manipur with a four-day visit schedule
for interacting with the enthusiasts and volunteers of the
nationalist organisation. Bhagwat also unveiled a book titled 'Unsung
Anglo-Manipuri War Heroes at Kalapani'. The function was also graced
by family members of war heroes along with RSS top operatives namely
Sunil Despande,  Ulhash Kulkarni,  Vashista Bajurbaruah,  Kh Rajen
Singh, MM Asokan, etc.