Royal stag barrel select large short films presents adheen
Directed by Yash Verma, the movie features Sanjay Mishra, Anupriya Goenka and Neeraj Purohit in lead roles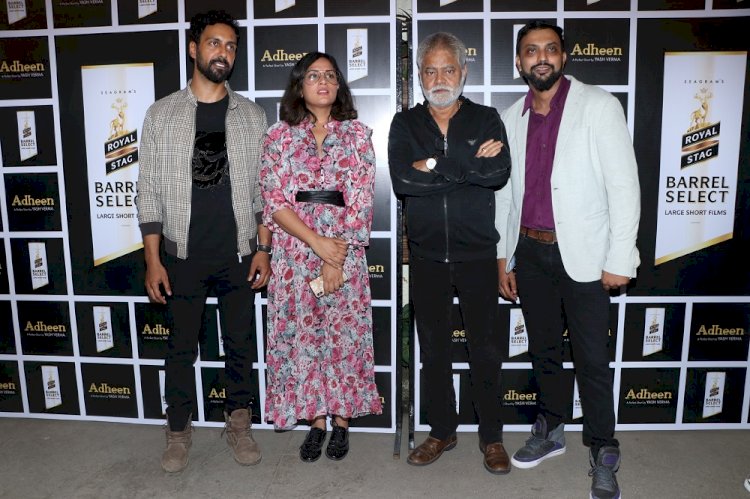 Royal Stag Barrel Select Large Short Films presents 'Adheen', a perfect short film about a helpless father and dysfunctional family. Directed by arts and design professional and director, Yash Verma, the short film features veteran actor Sanjay Mishra, bold & talented actress, Anupriya Goenka and theatre artist, Neeraj Purohit in lead roles.
 
The 30 minute short film, Adheen is about a father who gets his kids to meet their terminally ill mother under the pretext of a family reunion. While the son can't bear his mother's suffering, the daughter is still mad at her for throwing her out of house when she was young. The story unfolds to the point where the father takes a stand for the first time in his life and leaves his kids with a life altering decision. 
 
Talking about the film director Yash Verma said, "It was an experience in itself to direct a movie like Adheen that mirrors the current situation of most of the elderly couples which redefines the meaning of 'being a family'. Working with Sanjay sir has always been an honor and as always he has aptly projected the emotions of the protagonist father in the film. I am delighted to showcase this movie on a platform like Royal Stag Barrel Select Large Short films that has been instrumental in changing the dynamics for new directors in short film category."
 
Commenting on the movie Sanjay Mishra said, "As an actor I love essaying characters which are deeply inspired by people around us. I am happy to work with Yash again for his short film Adheen, which rightly depict family problems across India. I believe audience nowadays is more open to accept content across formats and it's wonderful to see platforms like – Royal Stag Barrel Select Large Short films providing them an opportunity to see powerful & meaningful cinema."
 
Royal Stag Barrel Select Large Short Films is one of the most influential and celebrated platforms for short films in India. Since its inception the platform has released some of the most prodigious and award winning short films with renowned artists and directors from the industry which truly reflects originality, imagination and perfection. With slew of powerful films, Royal Stag Barrel Select Large Short Films is the perfect stage that provides a canvas for directors and actors to tell compelling stories within 15-20 minutes. Through its original creative and entertaining content, the property has successfully built a loyal community of  short film movie buffs..