Rotary International District 3080 conducts two-day online training session `PRATYAY'
Various Rotarians including District Governor Rtn. Ramesh Bajaj and District Rotaract Committee Chairman Rtn.V.K Sharma graced the occasion and motivated the rotaractors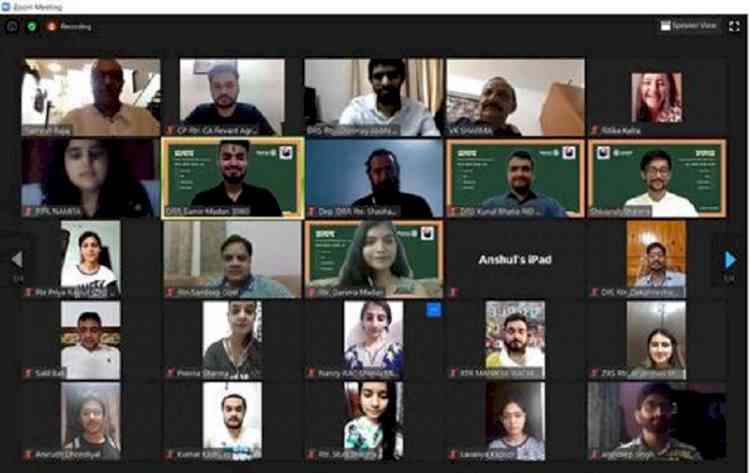 Chandigarh:  Rotary International District 3080 conducted a two-day online training session 'PRATYAY' on 1st and 2nd August for the Presidents and Secretaries of various Rotaract clubs from the 5 different states including Chandigarh. The session was led by the district leader District Rotaract Representative Rtr. Samir Madan and his team. The online leadership training session was attended by over 100 Presidents and secretaries from all over the district 3080.
 

The event commenced with an amazing musical performance by 'Tatvamasi' band giving a perfect start to the session. The upcoming leaders of Rotaract were given the lessons filled with leadership skills, fellowships, team building, technical skills and the other A to Z's of Rotaract. But not just that, it also had power-packed singing and dance performances that added more fun elements to the training session.
 

DRR Rtr. Samir Madan said "All the presidents and secretaries participated with great zeal. Everyone got to learn new things which would help all to make their club reach new heights. We made new bonds and networks in the District 3080 family."
 

Various Rotarians including District Governor Rtn. Ramesh Bajaj and District Rotaract Committee Chairman Rtn.V.K Sharma graced the occasion and motivated the rotaractors to lead the year with wit and grace.
 

Rtn. V. K. Sharma stated that RI District 3080 has already set numerous records in the first month of the tenure only. "DRR Rtr. Samir Madan is setting a different benchmark for the upcoming DRRs".
 

The training session concluded on a happy note with a promise by everyone to themselves to serve the community and give their best in the coming tenure.