RMLNLU, Lucknow wins XI Season of Dr D R Singh Memorial British Parliamentary Debate 
Event organised at PCTE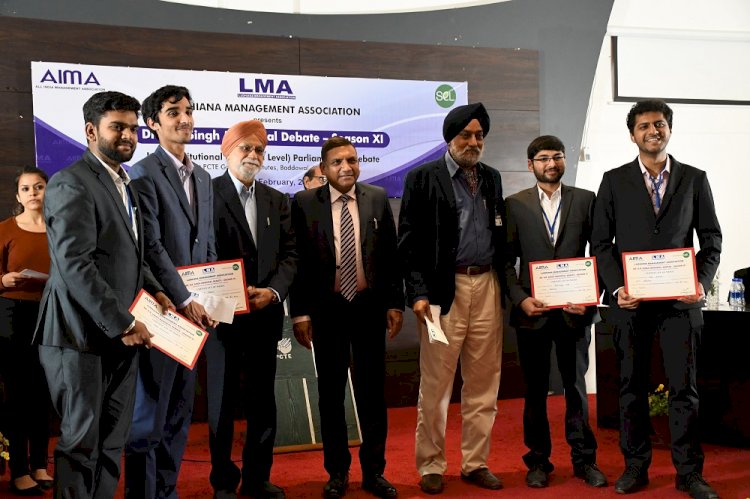 Ludhiana: The two days long Dr. DR Singh Memorial British Parliamentary Debate witnessed huge participation from 38 teams from all over the country where the teams got a chance to win a cash prize worth 1.5 Lakhs sponsored by SEL Manufacturing Company Ltd. RMLNLU, Lucknow bagged the first position and won a cash prize worth Rs. 1 lakh. PCTE Group of Institutes Ludhiana organised the event in collaboration with Ludhiana Management Association.
 
The Day experience an outstanding performance by the teams battling for Semi Finals and Finals where the Second position was bagged by RGNUL, Patiala and third by Hansraj College, New Delhi, who won a Rs 25,000 and Rs 10,000. However, the teams that reached the quarter finals were also awarded a cash prize worth Rs. 3,000. The teams that had made it in the quarter finals were RGNUL, Patiala, Aurobindo College of Commerce, Ludhiana, IET Lucknow, UAIMS, Chandigarh, RMLNLU, Lucknow, IIM Amritsar, Hansraj College, New Delhi, NIT Kurukshetra.
 
The occasion witnessed the presence of Mr. V.K Goyal, Goyal, Executive Director, CEO, SEL Group, Ludhiana, Mr. Raghav Chaudhary, Chief Executive Officer, Crescendo, and Mr. SS Bhogal, Senior Vice President, LMA.
Mr Goyal said that, "I am highly impressed by the zeal with which the competition is conducted on national level year after year. It is a great learning for all". He added that the art of debate requires skillful execution of many factors. To win a debate, each and every team must know how to present themselves and refute the points of the opposition as well. Knowing what to look for and being prepared to execute can be the difference between victory and defeat.
 
Dr. K.N.S Kang, Director General, PCTE Group of Institutes congratulated the winners and said that, "These debates encourage the students to participate, gain knowledge and insights into variable issues. Unlike the regular debates organized by various schools and colleges of the region, the British Parliamentary Debate entails a Knockout League match pattern - where two teams after draws fight against each other in a nearly hour-long debate, and the winner goes to the next round".