Ring in the New Year with Hotel KLG Starlite
Don't miss the opportunity to ring in the New Year dancing, singing, eating, drinking and making merry with KLG Starlite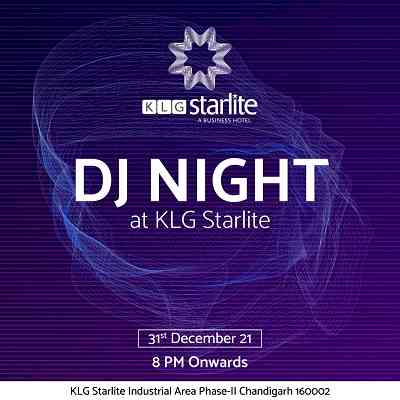 Chandigarh, December 30, 2021: Don't miss the opportunity to ring in the New Year dancing, singing, eating, drinking and making merry with KLG Starlite.
           
In order to ensure that omicron does not dampen New Year eve celebrations, Hotel KLG Starlite has taken all safety measures in tune with standard protocols. KLG Starlite will be holding the New Year events at its restaurant and COEN the hotel's all day cafe & bar.  
 
"Without compromising with safety norms, we are geared up to offer the best of ambience to tricity denizens to ring in New Year with memorable  moments," said Sandeep, Front Desk Manager, Hotel KLG Starlite. 
 
"Along with a lively DJ , we are offering a gala dinner with unlimited drinks and snacks at affordable costs." He said.