Rich tributes paid to former Union Minister Jaipal Reddy on his 1st death anniversary today
Very limited guests were allowed due to prevailing situation and social distancing concerns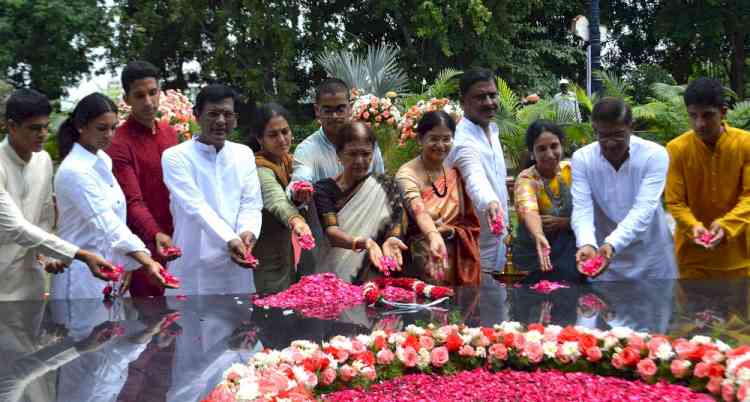 Jaipal Reddy's wife and family members seen paying tributes to him on his 1st Death Anniversary here in the city at Necklace Road at SJR Ghat.
Hyderabad: Mrs Lakshmi, wife, two sons, daughter and family members of late Sri Jaipal Reddy, Union Minister, paid rich floral tributes to him on his first death anniversary today at SKR Ghat at Necklace Road.
 
Several politicians, close associates of Mr Jaipal Reddy also paid their rich tributes. Notable among them include Revant Reddy, MP and Senior Congress Leader; Senior Congress leader Guduru Narayan Reddy; Senior Politician Mr Gutha Sukender Reddy; Senior BJP Leader Vivek Venkatswamy and others.
 
Very limited guests were allowed due to prevailing situation and social distancing concerns.
 
Shri Jaipal Reddy, politician par excellence, was the Member of Parliament seven times and Union Cabinet Minister thrice. He had a political career spanning over 50 years. He was a brilliant parliamentarian known for his oratorical skills and political acumen. His speeches were packed with knowledge, information, criticism and wit. He passed away last year (2019) on July 28th at the age of 77 years, who despite of his physical disability carried on his journey with grit, determination and stood as inspiration to many.