RGUKT-Basar students have gala time
Trinayana Cultural Festival reverberates with energy and vibrancy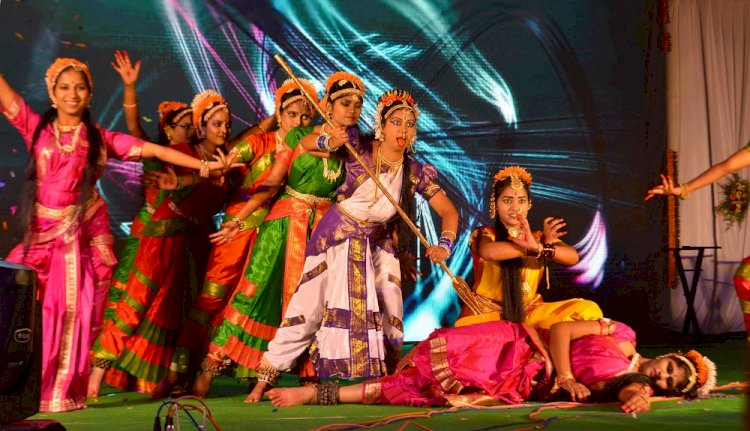 Mahishasura Stotram Aigiri Nandini dance performance.
Madhira Rock Band from BML Munjal University enthralls 
 
Basar/Nirmal: The second day of the Trinayana Cultural Festival being held as part of the ongoing 3-day national level India's biggest rural technical festival Antahpragnya 2020 delighted the audience with its young and vibrant performances. The audience had a gala time witnessing RGUKT-Basar students croon songs and perform dances at RGUKT-Basar campus, 180 kms from Hyderabad. The highlight of the evening was the live performance by Madhira Rock Band from the BML Munjal University, Delhi.
 
The evening saw performance by the talented students crooning hit numbers in Telugu, Hindi and English. Dressed in colourful attires, students let down their hair in dance performances to medley of Hindi, Telugu and English songs as the audience cheered them on. Be it retro or modern, the students performed with energy, style and enthusiasm.
 
Some of the noteworthy performances were traditional dance by girls on Goddess Durga Devi's song Ayi giri nandini, nandhitha medhini; Powerful, high energy performance called Devil's dance; Folk songs by RGUKT's resident folk sensation Venu Durgam; Folk songs by Diksha; Retro theme dance performance by Charan and Group; Sravani & team on Farmer's theme; Sai and team dance performance on Devil's theme; and many others. Apart from the song and dance, there were skits performed by students in Telugu and English on different subjects such as educating girl child, women protection, etc.
 
Belting out one hit after the other, the Madhira Rock band performed in front of the cheering crowd. Rendering songs in Telugu and Hindi the band won much appreciation from the young lot. The band had Gopi on Keys, Nitin and Priyesh on Guitar, Vishal Bhardwaj on drums and Swastik, Vastava, Jovi on Vocals. Few songs performed by the band include Nuvvunte Naa Jathagaa (from the movie 'I'); Tujhe Kitna Chahein Aur (Kabir Singh movie); Butta Bomma (Ala Vaikuntapuramlo); Mellaga Kharagani (Varsham); Bekhayali mein bhi tera hi khayal hai (Kabir Singh movie); Muskurane ki wajah tum ho (City Lights movie); Ne kallanu pattuku chude na kallu (Ala vaikantapuram lo); and many more. The performance continued well into the night with students showing no signs of tiredness, dancing, singing and swaying with the band.
 
Much to the delight of the audience Dr. A. Ashok, VC, RGUKT-Basar too joined the band and sang few numbers viz. Mere Sapno Ki Rani kab aayegi tu, Khaike Pan Banaraswala and Chalte Chalte Mere Yeh Geet Yaad Rakhna.
 
Prizes were given away to winners for the various contests held as part of Trinayana viz. Story writing, Poetry, Debate, Pictionary, Spell Bee, JAM & Extempore, Padmavyuham, Prasna, Calligraphy, etc.
 
The performances by the students proved that not only are they good at studies but they know how to kick up a storm and enjoy. RGUKT is now home to some great new emerging talents in the art and entertainment world.  It would be no wonder if some awesome artists come out from RGUKT-Basar in the near future.