RGI  organised  national webinar on quality enhancement and sustenance in teacher education trends, challenges and way ahead
Participants presented their papers in two technical sessions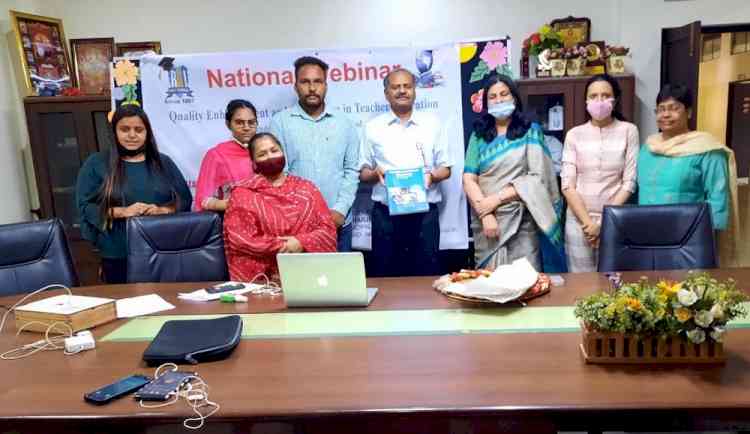 Mohali: Rattan Professional Education College, Sector 78, organised webinar at its campus . The objectives of this webinar were to study Issues and Challenges in teacher educationOne of the Keynote speakers Dr. Kuldip Puri, Professor, USOL, Panjab University, Chandigarh  talked on National Policy of Education 2020 where he emphasized about the different dimensions of NEP 2020 and deliberated on the promises and challenges of the NEP 2020 and how to roadmap needs to be created for its better implementation. Dr. Sangeeta, Professor, Department of Education, Kurukshetra University  discussed about Revamping Teacher Education in the light of NEP 2020. She also stressed on the scaling up the teacher  education at different level of education  like aims of education, curriculum, pedagogy, teaching strategies and evaluative techniques which should prepare teacher to face various challenges of education.
After that, participants presented their papers in two technical sessions. The technical session-I had Subtheme- Issues and Challenges in Teacher Education  and Dr. SuminderVerma, Assistant professor, Government College, Daultpur, Distt. Kangra was the chairperson. In this session, eleven delegates presented their papers through power point presentations. In the end, the chairperson gave brief review about the different paper presenters during the session.
 The second  session Sub themed with  Revamping Teacher Education System and Dr Jyoti Soni, Principal Shivalik Institute of Education and Research, Mohali was the  chairperson. The chairperson Dr. Jyoti Soni said  while concluding the session said that the papers have covered relevant  aspects of teacher education, which need to be taken into proper consideration. After the valedictory address, webinar book containing the different paper presenter during the webinar was released by Sunderlal Aggarwal, chairman, RGI.
Chairman Aggarwal  said at the moment that  the progress of a country depends upon the quality of its teacher and Education. The teacher is the central point of the entire educational system and the principal agent for bringing desirable changes in the teaching-learning process.