RGC organises annual athletic meet
About 500 students participated in event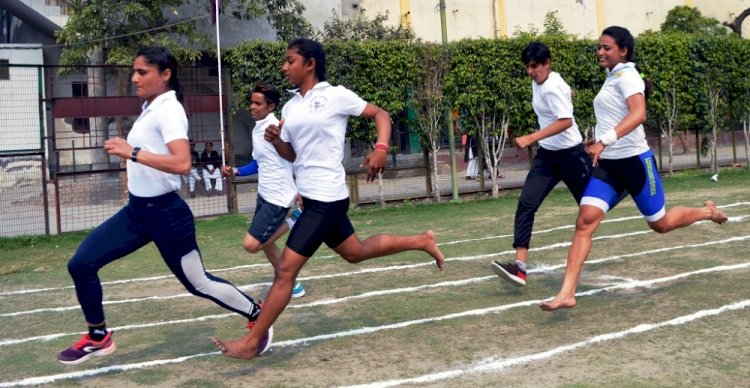 Ludhiana: Annual Athletic Meet was organized on the Golden Jubilee year of Ramgarhia Girls College. Arjuna Awardee S. Sukhpal Singh Brar, Deputy Commissioner of Police (Traffic) presided over as Chief Guest and, S. Gurdev Singh, Assistant Commissioner of Police(Traffic)was the  Guest of  Honour. 
Dr. Inderjit Kaur, Principal, S. Ranjodh Singh, President, S. Gurcharan Singh Lotey, General Secretary, Ramgarhia Educational Council and Dr. Rajeshwarpal Kaur, Head, Dept. of  Physical Education, extended them a cordial welcome. 
S. Sukhpal Singh Brar unfurled the flag and took salute from the march past. About 500 students participated in the meet. The participants of each team were divided into players and non-players. The list of events included 50, 100, 200, 400 and 800 Meter Race, Long Jump, High Jump, Discuss Throw, Javelin Throw, Shot Put and Recreational Events like, Spoon and Potato Race, Three-legged race, Chatti Race, Skipping on the spot and Sack Race. The guests took part in musical chairs. Parveen kaur was adjudged the best athlete in sports category and Sukhpreet Kaur in non-sports category. The chief guest gave away prizes to the students and while quoting the proverb "It's not about winning and losing, it's about how you play the game." he said: "Playing sports not only make us physically fit but also mentally fit, it also teaches how to accept defeats in the field and learn  to improve in future performance." 
Dr. Inderjit Kaur appreciated Dr. Rajeshwarpal Kaur and Prof. Rani kaur for organizing the event. She said, "Our athletes have done us proud on many occasions and through this event, even the non-players have got an opportunity to showcase their athletic prowess." 
S. Ranjodh Singh averred, "Sports inculcate several qualities in students and prepare them to face the challenges of life. In the competitive scenario of today, it enables them to prove their mettle and face adversities with a smiling face." 
S. Gurcharan Singh Lotey congratulated the prize-winners and thanked the guests for gracing the occasion. 
Mrs. Jaspal Kaur and Dr. Harbinder Kaur conducted the stage.  
RESULTS (Sports Students)
LONG JUMP

I 

PRONITI

B.A.-I

II

PARVEEN

M.A. I (PBI)

III

USHA

B.A.-II

III

RAMANDEEP KAUR

B.A.-II

HIGH JUMP

 

I

PARVEEN

M.A. I (PBI)

II

PRONITI

B.A.-I

III

JYOTI

B.A.-I

IV

USHA

B.A.-II

SHOT PUT

 

I

PRONITI

B.A.-I

II

PARVEEN

M.A. I (PBI)

III

MANISHA

M.A. II(PBI)

JAVELIN THROW

 

I  

MANISHA

M.A.II( PBI)

II

PRONITI

B.A.-I

III

RAMANDEEP KAUR

B.A.-I

DISCUS THROW

 

I

RAMANDEEP KAUR

B.A.-I

II

MANISHA

M.A. II(PBI)

III

PRONITI

B.A.-I

100 METERS

 

I

PARVEEN

M.A. I (PBI)

II

RIYA

B.A.-I

III

PRONITI

B.A.-I

200 METERS

 

I

PARVEEN

M.A. I (PBI)

II

RIYA

B.A.-I

III

MANISHA

M.A. II(PBI)

400 METERS

 

I

PARVEEN

M.A. I (PBI)

II

RIYA

B.A.-I

III

JYOTI

B.A.-I

800 METERS

 

I

PARVEEN

M.A. I (PBI)

II

RIYA

B.A.-I

III

MADHURI

B.A.-II

III

RAMANDEEP KAUR

B.A.-I
NON SPORTS
50 METERS

I

SUKHPREET

B.A.-II

II

SIMRAN KAUR

B.COM.-III

III

JYOTI

B.COM.-III

100 METERS

 

I

SIMRAN KAUR

B.COM.-III

II

SUKHPREET

B.A.-II

III

JYOTI

B.COM.-III

200 METERS

 

I

SUKHPREET

B.A.-II

II

MANISHA

B.COM.-II

III

CHARANPREET

B.COM.-I

 

 

CHATTI RACE

 

I

MANPREET

B.A.-I

II

NANDINI

B.COM-III

III

RAMANDEEP

B.A.-II

SACK RACE

 

I

RIYA

B.A.-I

II

MADHURI

B.A.-II

III

RAMANDEEP

B.A.-II

THREE LEGGED RACE

 

I

PALLAVI

B.A.-II

 

RAMANDEEP KAUR

B.A.-II

II

MANISHA

M.A.-II

 

PARVEEN

M.A.-I

III

HARDEEP

PGDCA

 

GAGANDEEP

B.C.A.-II

SKIPPING RACE

 

I

USHA RANI

B.A.-II

II

RIYA

B.A.-I

III

RUCHIKA

B.A.-I

SPOON AND POTATO RACE

 

I

FARHANAAZ

B.A.-III

II

PRIYA

B.A.-I

III

KHUSHBOO

B.SC.-II

SKIPPING ON THE SPOT

 

I

KHUSHI

B.A.-III

II

RIYA

B.A.-I

III

KHUSHBOO

B.SC.-II

RELAY RACE

 

I

B.A.-I

 

II

Post Graduation II

 

III

B.A.-II

 

SHOT PUT

 

I

SONALI

B.A.-I

II

MANDEEP

B.A.-II

III

GURPREET

B.A.-III

LONG JUMP

 

I

SIMRAN

B.COM.-III

II

POOJA KUMARI

B.A.-I

III

KAWALPREET

B.COM.-I

JAVELIN THROW

 

I

SANDEEP PUSHPA

 

II

MANDEEP KAUR

B.A.-II

III

KARUNA

B.A.-III