RGC observes Principal Harmit Kaur Memorial Day
Dr. Prithipal Singh Kapoor Former Pro V.C. (G.N.D.U) presided over the occasion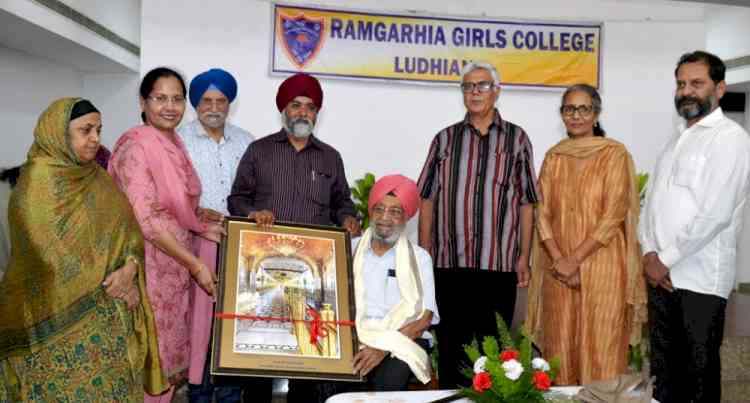 Ludhiana: A programme to commemorate the loving memory of the late Principal Mrs.Harmit Kaur was observed by the Managing Committee, Principal and Staff members of Ramgarhia Girls College at Mata Tripta ji Hall today. Dr. Prithipal Singh Kapoor Former Pro V.C. (G.N.D.U) presided over  the occasion. Dr.B.S.Shah, Dr.Satish Sharma, Mr.Puneet Sood, Former Principal Dr. Narinder Sandhu, Dr.Inderjit Kaur, Principal Manjinder kaur and members of Ramgarhia Educational Council were also present to pay homage to the beloved Principal.    
Dr. Prithipal Singh Kapoor remembered the days when she was a student at Ramgarhia College Phagwara and said that people like her are an asset to an institution. She  was among those students that make their teachers feel proud and worthy.
He urged everyone present to resolve to learn from her the perfect ways to  lead a complete life.     
President of Ramgarhia Educational Council S. Ranjodh Singh shared his memories saying that Principal Harmit Kaur was that pillar of Ramgarhia Girls College under whose stewardship this institution  built a grand reputation  .She was a true leader.
Dr.Shah,  a friend to Mrs. Harmit,  remembered her as an iron lady who was truly an epitome of versatility, a perfect Principal, a devoted wife and a great friend. Principal Dr. Manjinder Kaur said that she was more of a sister, a mentor and guide to her who inspired her to take bold decisions as a Principal herself. She had deep bonding with everyone associated with her which is a rare quality to be found in a human being. Principal  Dr. Narinder Sandhu called her a complete woman  who adhered to great values required for a great teacher, Principal and a leader. Offg. Principal Dr. Rajeshwarpal Kaur called her a pure soul and a key figure who strived hard to uplift the standards of this newly established institution when she joined here. She was a charismatic personality who influenced everyone who   came in her contact. On this occasion  a Scholarship was instituted by Dr. Satish Sharma and Mr. Puneet Sood for meritorious students.The Department of Home Science was named  Principal Harmit Kaur Home Science Department in her memory. Mrs. Tajinder Kaur conducted the stage.
At the end S. Gurcharan Singh Lotey General Secretary, REC thanked everyone for coming and making this day a memorable one.