Repair all city roads within a week, else face action: Bharat Bhushan Ashu warns MC officials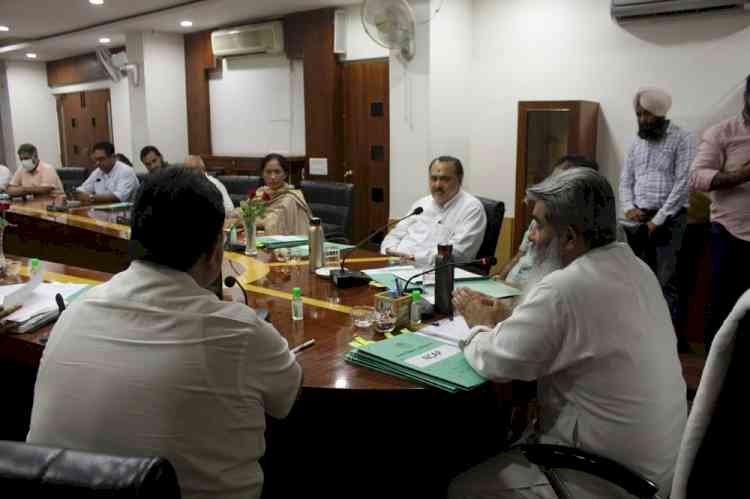 Warns of strict action if all roads are not repaired within a week
Ludhiana, September 28, 2021: Punjab Food, Civil Supplies and Consumer Affairs Minister Bharat Bhushan Ashu today warned the MC officials to repair all city roads within a week, else face action. He directed the MC Commissioner to serve show cause notices to those MC officials, who, despite having adequate funds and material for repair of roads, failed to repair them.
A meeting in this regard was chaired by Bharat Bhushan Ashu at MC Zone D office, here. This meeting was also attended by Mayor Balkar Singh Sandhu, Senior Deputy Mayor Sham Sunder Malhotra, Councillors Dr Jai Parkash, Mamta Ashu and Sunny Bhalla, MC Commissioner Pardeep Kumar Sabharwal, Additional Commissioner Aditiya Dachalwal, besides several senior MC officers.
While chairing the meeting, the Cabinet Minister said that its great shame that despite having adequate funds and material for repair of roads, the concerned officials have failed to repair the city roads. He warned that if the concerned officials fail to repair the roads within a week, they would have to face strict action and even a chargesheet. "I want all concerned officials on roads 24X7 and the repair work should go on round the clock. No lapse on any part would be tolerated," warned Bharat Bhushan Ashu.
He also urged the residents that in case of any complaint, they should submit it on the twitter handle @MCLudhiana of Municipal Corporation Ludhiana and assured of timely response. He also assured the residents that in the first phase, all main city roads would be repaired, followed by other roads. He said that he would personally monitor the ongoing work on daily basis and warned of strict action in case of any lapses.
Before the meeting, the District Administration also accorded guard of honour to Bharat Bhushan Ashu for coming to the city after becoming cabinet minister for the second time, at MC Zone D office today. Deputy Commissioner Varinder Kumar Sharma, Commissioner of Police Gurpreet Singh Bhullar, MC Commissioner Pardeep Kumar Sabharwal, ADC (Urban Development) Sandeep Kumar, ADC (Development) Amit Kumar Panchal, ADC (General) Rahul Chaba, Assistant Commissioner Parleen Kaur Kaleka, besides several others were also present on the occasion.