Renowned Punjab Edupreneurs hold meeting through video conferencing
The webinar was attended by around 100 top educational leaders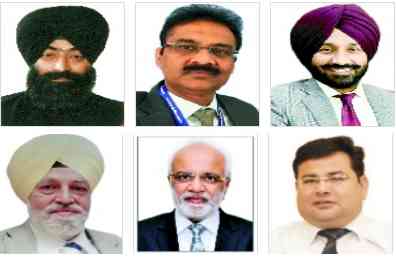 Ludhiana: A webinar of top think-tanks of the education sector was held through zoom video conferencing today.
The webinar was attended by around 100 top educational leaders on the topic Challenges to self-financed institutions in the times of Covid-19. 
S. Jagjit Singh, President, B.Ed federation, was the moderator while five renowned educationists Sh. Ashok Mittal, Chancellor, Lovely Professional University (LPU); S. Satnam Singh Sandhu, Chancellor, Chandigarh University (CU); S  Charanjit Singh Channi, Chancellor, CT University; Dr. Gurmeet S. Dhaliwal, President, Punjab Unaided Technical Institutions Association (PUTIA); Dr. Anshu Kataria, President, Punjab Unaided Colleges Association (PUCA) were the panelists.
Mr. Ashok Mittal and S. Satnam Singh Sandhu said that Chief Minister, Punjab, Captain Amarinder Singh took timely steps to control the outbreak of Coronavirus due to which, in the entire country, Punjab is the State fighting aggressively with this pandemic. They further said that the students, staff and Manegement of all the Colleges and Universities of Punjab are with the Govt to help in this situation. The education institutions of Punjab are regularly helping the needy and deprived people in getting the food and medicines. Each college is also trying to convert their hostels to isolation wards under the contingency plan.
S Charanjit Singh Channi while expressing his concern towards the schools said that on the one hand Govt is saying not to ask for fees from the students while on the other hand asking to pay the salaries to the staff timely which is not practically possible.
Dr. Gurmeet Singh Dhaliwal said that though the institutions are with Govt but Govt should also get the bailout package from the Centre Govt along with the disbursement of Rs 1850 crore of Post Matric Scholarship (PMS) funds.
Dr.  Anshu Kataria said that every school and college has paid 10-20 Lac as endowment fund/bank guarantee/security/FDR to the board, affiliating university, central council before starting the institutions. Just for example, one B.Ed college running ETT and M.Ed course pays 12 Lac each course to National Council for Teacher Education, New Delhi (NCTE) and 20 Lac to Punjabi University, Patiala. Thus a small college pays 56 Lac to the University and Council as a security.
Kataria further added that it is the right time that Universities/Councils should not keep these reserve funds with them which were actually given by the colleges only. Such reserve funds should be released back to the colleges immediately to pay the salaries.