Renewable energy sources vital to secure sustainable development: Dr. Jaspal Singh
Science City Celebrated Energy Conservation Day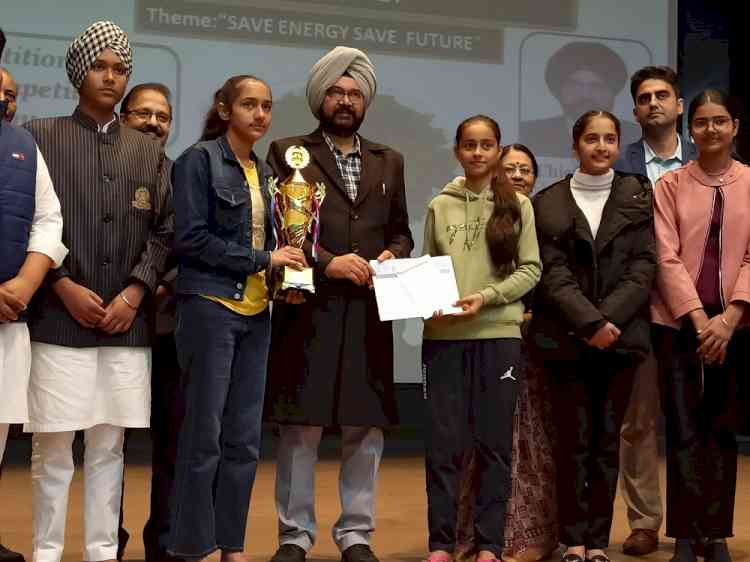 Kapurthala, December 14, 2021: Pushpa Gujral Science City jointly with Punjab Energy Development Agency (PEDA) celebrated National Energy Conservation Day. The theme of the day was "Save energy Save Future". More than 250 students and teachers participated from all over Punjab.
Dr. Jaspal Singh Sandhu Vice Chancellor, Guru Nanak Dev University Amritsar presided over as Chief Guest at this occasion. In his address, he said that Renewable energy sources play a very vital role in securing sustainable development ensuring access to affordable, reliable, sustainable, and modern energy for citizens. The primary objective for deploying renewable energy in India is to advance economic development, improve energy security, improve access to energy, and mitigate climate change.  Further, strong government support and the increasingly opportune economic situation have pushed India to be one of the top leaders in the world's most attractive renewable energy markets, he added.
Dr. Neelima Jerath, Director General giving introductory remarks at the occasion said that National Energy Conservation Day is celebrated to bring awareness amongst the masses about the importance of energy, using it efficiently as well as conserving it by using less energy. Energy conservation should be rooted in the behavior of every human being to get more effect towards the plan of energy conservation. Further, PGSC is leading by example by adopting several energy conservation measures, she added.
Sharad Sharma, Project Engineer, Punjab Energy Development Agency, Chandigarh shared the steps taken by PEDA in the field of Energy Conservation. He informed that replacement of existing inefficient electrical appliances with Energy Efficient electrical appliances in Government Primary and Middle Schools (Urban) has resulted in annual energy saving of 1,99,114 kwh equivalent to abatement of 159 tonnes of CO2 emissions under Demonstration Project.
Dr. Rajesh Grover, Director, Science City present at the occasion said that the day highlights the importance of energy in our day-to-day life, its scarcity, efforts required for its conservation and its impact on sustainability of global eco systems.
Science Play Competition and Model competitions were also organized at this occasion. In Science Play competition Tara Convent School Malarkotala  won first prize, Parbhat Public School Amritsar   got Second prize  and  Guru Harkishan Public School Kapurthala received third prize. In project model competition, Dass and Brown World School Ferozpur bagged the first prize, Pioneer Convent School Malarkotala won second prize and third prize was secured by Rayat Bhara School Hoshiarpur.