Regional Center of Jagat Guru Nanak Dev Punjab State Open University, Patiala established at Layallpur Khalsa College
An MoU has been signed between two institutions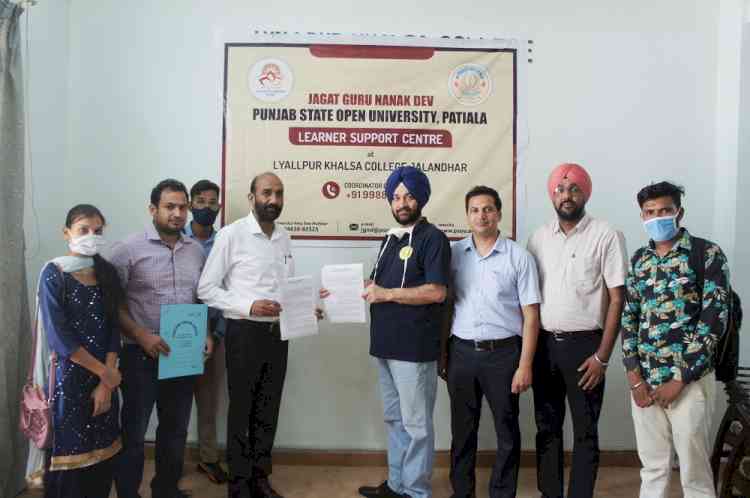 Jalandhar: The Regional Center of Jagat Guru Nanak Dev Punjab State Open University, Patiala is established at Layallpur Khalsa College, Jalandhar. 
Principal Dr. Gurpinder Singh Samra and Dr. Dharam Singh Sandhu Registrar Jagat Guru Nanak Punjab State Open University signed a Memorandum of Understanding (MoU) between the two institutions. 
Dr. Samra, releasing a statement here today, said that the Regional Center of the State Open University opened by the government in the Doaba region to spread the light of education in every district of Punjab would go a long way in imparting higher education to the working and senior citizens. He said that our institute is already working tirelessly for the holistic development of the students. We will be delighted to contribute further in spreading the light of education with the establishment of the Regional Center of the State Open University. He said that Dr. Dinkar Sharma, Assistant Professor, Department of Mathematics has been posted as coordinator of this center at the college. 
Dr. Dharam Singh, Registrar, Punjab State Open University said that these centers are being set up in higher education institutes recognized by the Central Government in which formal parallel programs are available in a wide area. These institutions should have the infrastructure of science, sociology, arts, commerce etc. faculties.  The status of faculty in these institutions should be equal to that of an assistant professor in a recognized college. He said that these institutes would provide parallel programs, theory sessions, contact sessions, laboratories etc. 
On this occasion, Dr. Gagandeep Singh Dean Admission, Dr. Surinder Pal Mand, Dean Student Welfare and students were also present.