Regardless of age, Sony SAB's Pushpa aspires to fulfill her right to education. 
Will she win in this fight against societal perception and family pressure?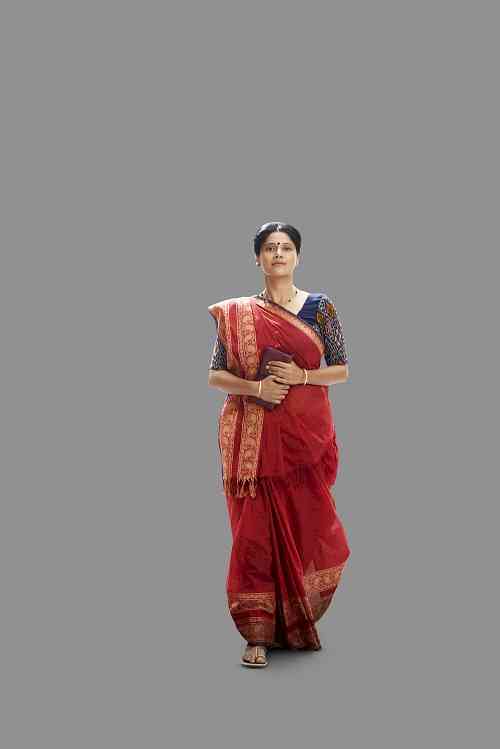 Karuna Pandey as Pushpa in Sony SAB's Pushpa Impossible.
With her cheery disposition, optimistic mindset, and unique approach towards life, Pushpa (Karuna Pandey) of Sony SAB has captured our hearts. She is independent and a confident problem solver, holding the view that "If life gives you lemons, make some refreshing lemonade from them." But just like the rest of us, she does, however, have her set of shortcomings! Her lack of education being the biggest of those. But, Pushpa is  the one to face adversity head-on and set forth on her journey to make sure she gets the respect she deserves. 
Pushpa visits Ashutosh Nanavati, the principal of Rashi's school, on the advice of Amir Bhai, and he agrees to give her a chance if she submits the required marksheets and paperwork. She leaves for her hometown of Patan to get the necessary documents, but her troubles are far from over. The folks at Bapudra Chawl ridicule her idea of studying in a normal school, with kids who are way younger than her. Ashwin (Naveen Pandita), Chirag (Darshan Gurjar) and Dipti (Garima Parihar) on the other hand, don't see anything wrong with her decision of completing her schooling and fully support her. Garima's mother, Sonal(Bhakti Rathod) however isn't too thrilled about this new development as she feels it will yet again make them the society's laughing stock. Pushpa's biggest resistance yet, in her path of learning is her daughter Rashi(Deshna Dugad) who is the student of the very school Pushpa is set to attend. She is constantly embarrassed of her mother and the news of her mother's admission in her school is an unpleasant surprise. Rashi throws a fit and vehemently resists Pushpa's decision of joining her school.
Will Pushpa give up on her dreams in the middle of so many obstacles or will her untethered zeal towards pursuing her education make the Gods of Destiny smile upon her? 
 
Karuna Pandey who plays the role of Pushpa shares, "Pushpa's decision of going back to school, and giving herself a new mission is a very bold and inspiring step. To watch her overcome the notions and perception of others to pursue her education irrespective of her age, irrespective of people's opinion on it and fight for what she deserves, is extremely inspiring for anyone to see.. There is a learning here for every woman out there - no matter where you belong or what you do, always pursue your dreams, because the key to unlocking our dreams lies in our hands. Struggles will always be there but to see yourself shine despite all the obstacles is another sense of fulfillment."