Red Cross- symbol of service and help to suffering humanity: Rahul Kumar
The society is providing cash subsidy, free medicines assistance to the helpless poor needy patients for their treatment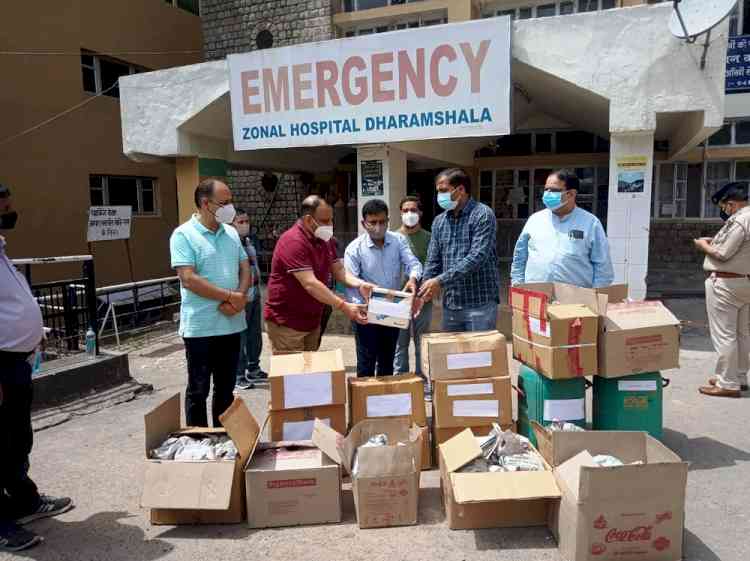 Dharamsala: District Red Cross Society, Kangra's Vice President and Additional Deputy Commissioner, Rahul Kumar said that District Red Cross Society, Kangra is always working with unselfish service to the suffering humanity. The society is providing cash subsidy, free medicines assistance to the helpless poor needy patients for their treatment. He said, " Today Covid-19 (Coronavirus) has taken the form of a global pandemic. The entire Himachal and district Kangra has also not remained untouched by this epidemic. District Red Cross Kangra stands with the suffering people in this hour of grief."
ADC said that in view of this situation, District Red Cross Society Kangra today distributed 2000 Face Mask, 500 Pair Gloves, 500 Face Mask N095, 300 Hand Centaur, 50 Face Sealed in Dedicated Covid Care Center Zonal Hospital Dharamshala on the occasion of World Red Cross Day today. In addition  20 plus oximeters, 200 PP kits etc. were also distributed to the patients. In addition to this, 10 wheel chairs were also provided for the convenience of patients admitted to Dedicated Covid Care Center Zonal Hospital Dharamshala.
Rahul Kumar called upon the people to say that Corona has taken a macabre form and all need to be alert. People should not be frightened by this virus, but be aware. Strictly follow the rules issued by the government and administration, which is necessary for our lives. Take care of cleanliness, clean your hands with soap and sanitizer and also keep proper distance from other people.
On this occasion, Superintendent of Regional Hospital Dharamshala, Dr. Rajesh Guleri, Dr. Ajay Dutta, Dr. Anil Bhatt, Manoj Kumar, a lifelong member of Red Cross, and Om Prakash Sharma, Secretary, District Red Cross Society were also present on the staff of Red Cross.