RCF Kapurthala felicitated with Best Production Unit Shield for year 2020-21
RCF will share this shield jointly with Banaras Locomotive Works, Banaras   for 66th National Railways Awards-2021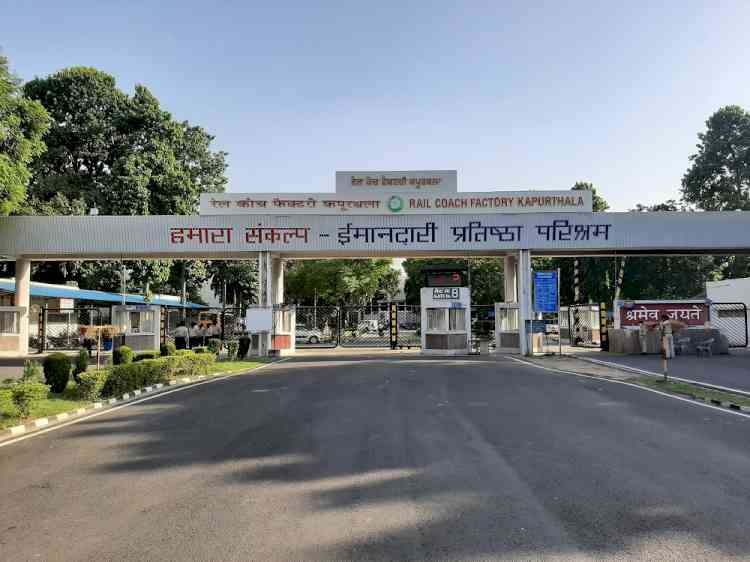 Kapurthala, January 3, 2022: Rail Coach Factory Kapurthala has won Best Production Unit Shield for exemplary performance during the year 2020-21. RCF will share this shield jointly with Banaras Locomotive Works, Banaras   for 66th National Railways Awards-2021. This coveted felicitation comes second time for RCF, earlier being in 2013. 
During 2020-21, RCF Kapurthala performed excellently in all departments and the coach production stood at 1500 coaches . There was a record increase in production of LHB coaches ( 1497 ) as compared to previous year ( 928 ) thus registering an increase of 61% in LHB production in the year 2020-21.
RCF rolled out new version of parcel coach (LVPH Mark -II) on 07.11.2020.  by bringing some significant design changes and reducing the tare weight of Mark-I by 03 tonnes. This coach is well endowed to carry heavier parcel goods at faster speed thus imparting a new annexe to parcel business. The new AC Three Tier Economy Class coach was rolled out on 10.02.2021 from RCF incorporating  many passenger friendly innovations besides  increasing the passenger capacity from 72 to 83 berths by introducing 11 additional berths. Also, while fighting against COVID fear, RCF turned out Post Covid coaches during the 2020-21 .
RCF  resumed its production activities on 23.04.2020, when most of  the big industrial units of country were under lockdown.The resumption of production within a month of nation-wide lockdown garnered interest in the industrial units of the region. RCF thus,  became a model of industrial recovery in the region.Besides, RCF also excelled in other fields too, significant being its footmark in digitization of  office working. 
Ashesh Agrawal , General Manager of RCF said that this award was due to the untiring efforts and dedication of the RCF employees who worked relentlessly for increasing the satisfaction quotient of the passengers. He said that the RCF is all geared up to increase its coach production  during 2021-22 besides working on the design of other coach variants . He announced a group award of Rs 50000/-  for RCF personals on this laudable achievement .