Ravinder Singh Dhillon takes over as CMD of PFC
Dhillon brings with him close to 36 years of rich and varied experience that spans across entire value chain of power sector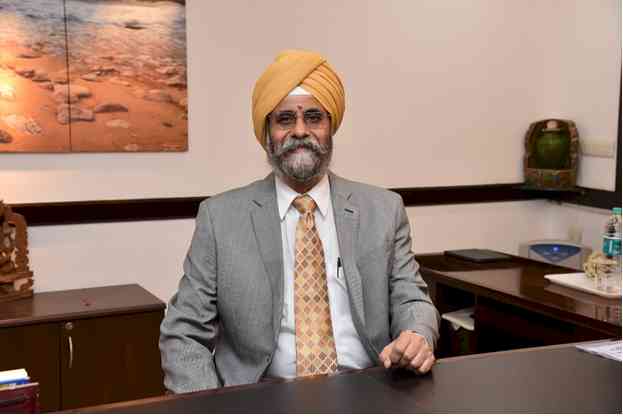 Shri Ravinder Singh Dhillon post taking charge as CMD of Power Finance Corporation Ltd.
Chandigarh: Government-owned Power Finance Corporation (PFC), India's leading NBFC, today announced the appointment of Shri Ravinder Singh Dhillon as its Chairman and Managing Director.
Shri Dhillon brings with him close to 36 years of rich and varied experience that spans across the entire value chain of power sector. Out of this, 27 years is in PFC with experience of financing power sector i.e. generation, transmission and distribution; 6 years in Central Electricity Authority with experience of macro level planning of power systems & 3 years in Bharat Heavy Electricals Ltd with experience in designing power generating equipment.

Some of the major achievements of Shri Dhillon include his efforts towards geographical diversification by cross border funding of power projects worth almost Rs.9,000Crs related to Nepal and Bangladesh, significant push to refinancing & renewable business leading to accelerated loan growth, resolution of stress in 4 large projects of more than Rs. 4000 Crs etc.
While addressing the employees, Shri Dhillon said as uner:
"We all normally meet in the conference hall for various occasions, but because of Covid-19, we are meeting virtually, and this will continue for at least some more time. We should be getting used to this new normal of virtual meetings and work-from-home culture.
I stand before you all today to share my thoughts. And to seek support and guidance from each and every member of PFC, to take this Company to even greater heights.
I think the immediate challenge we all are facing is the Corona Virus pandemic. I must say, our response to this as team PFC has been excellent so far. We have all stood together and fought against all odds to make 11,000 Crs disbursement possible in the last 3 days of the FY despite the lockdown. We have also brought out a moratorium policy and liquidity package to help the power sector during these testing times. 
On the power sector liquidity support front, it is envisaged to provide financial assistance of the 1st tranche of Rs.90,000Crs liquidity package within 60 days. To this effect, Shri Dhillon requested employees to actively interact with States for expediting financial assistance to States within the above stipulated timelines. Already some States like Punjab, Uttar Pradesh, Rajasthan, Manipur& Karnataka have evinced interest to avail this package. 
While we have to live with Corona for a while, I believe Safety comes first. I assure you all that we will adopt the best possible measures at PFC to keep all of us and our family members safe. I request you all to cooperate and strictly follow the safety norms.
Apart from affecting our social life, the outbreak of this pandemic & the consequent nation-wide lockdown has also created an unprecedented economic disruption. We are uncertain on how prolonged this situation will be. We all are therefore in an uncharted territory, facing significant and unique business challenges, which we had never imagined. With all these challenges, PFC is clearly at cross roads. In this context, he outlined the various challenges being faced by the power sector in general and PFC in particular.
However, we have to continue our business growth and profitability and also enable overall power sector reform and development.
For this we urgently need to increase our share of 54EC Capital Gain Tax Bonds, open up new avenues like a borrowing facility from RBI and also tap retail going forward in the near term. 

On the lending business front, we need to diversify our business into new areas, new sectors and also go for geographical diversification. We need to fund areas such as charging infrastructure and electric vehicles, renewable energy sources with substantial storage and also make full efforts to tap business from good business houses.
Going forward to seize these opportunities, whole-hearted support from each and every member of the PFC family is of utmost importance to me. We all need to do our best and be the agents of change. Whether one is a PS, an officer, a Manager, a GM, Director or CMD, we all are equal and work towards a common goal for doing our best for the company. I therefore believe that unless each and every member of the PFC family contributes positively in his or her own way, we will not be able to overcome these tough times. By working together - and only together - do we succeed.
As we are all aware today, PFC is ranked 242 in Forbes list of best employers worldwide and we are also the largest PSU in the country with a consolidated asset base of almost $100 billion. PFC owes this success to its small family of 480 employees having the best talent in the industry.
Let us all be united as one big family and take this company to even greater heights. Let us all remind ourselves that the PFC has always found a way out of all tough situations and has emerged victorious every time.
In the present contagion times, let the virus not spread but let our team spirit,  hard work, dedication and our strive for excellence spread virally in PFC. We have done it in the past, we are doing it today and we are, the team that will do it again."