Ramgarhia Girls College organised Annual Convocation 
The event held on the occasion of 299th Birth Anniversary of Sardar Jassa Singh Ramgarhia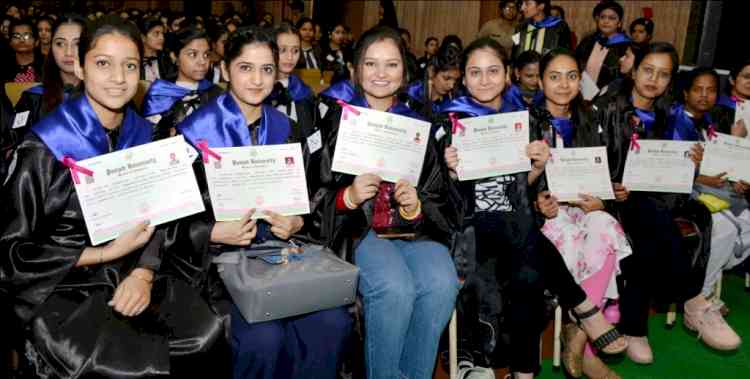 Ludhiana, May 5, 2022: Ramgarhia Girls College organised its Annual Convocation on the occasion of 299th Birth Anniversary of Sardar Jassa Singh Ramgarhia, wherein degrees were conferred on the students who had passed out in the academic sessions 2018-19, 2019-20 and 2020-21. 
Kultar Singh Sandhwan, Speaker, Punjab Vidhan Sabha presided over as  Chief Guest and Saravjit Kaur Manuke, an alumni of the college from 1989-90 batch and M.L.A., Jagraon and Manvinder Singh Gyaspura, M.L.A., Payal were the Guest of Honour. 
Officiating Principal, Dr.Rajeshwar Pal Kaur, President, Ramgarhia Educational Council, Ranjodh Singh and General Secretary, Gurcharan Singh Lotey, accorded a warm welcome to the eminent guests. 
The ceremony commenced with a prayer to the Almighty as the students of PG Dept. of Music Vocal rendered a Shabad in their soulful voices. Thereafter, the Chief Guest conferred degrees on 940 graduate and post-graduate students and Roll of Honour was awarded to students who had done exceptionally well in the field of academics, cultural and sports. 
Kultar Singh Sandhwan congratulated the degree holders and motivated them to enrich their country and humanity with the knowledge that they had acquired during their stay in the College. It was a moment of pride for the college that the alumni Saravjit Kaur Manuke congratulated the degree holders and applauded the academic and non-academic achievements of the college.  Offg. Principal, Dr. Rajeshwar Pal Kaur read out the annual convocation report and while highlighting the attainments of the college, she said that the college had always endeavored to impart value-based education along with academic excellence. She further added that students should uphold the honour of their institution in all their future ventures. 
Ranjodh Singh and Gurcharan Singh Lotey also appreciated the students for their excellent performance and said that by dint of hard work, commitment and passion, the students can achieve greater heights in life. 
Harbhupinder Singh Dharour, President Ludhiana Rural, AAP was felicitated on the occasion, Dr Nirmal Jaura was also honoured with a memento by RGC fraternity on his retirement as the Director of the Department of Youth Welfare, Panjab University, Chandigarh. 
On this day, Former Principal Dr. Narinder Sandhu, accompanied by Principal Dr. Kirandeep Kaur, Dr. Suman Lata, Former Professors Prof. Manjeet Kaur Sethi, Prof.Jasvir Kaur Punni and Dr. Swaranjit Kaur Grewal, Dr. Nirmal Jaura, Satish  Sharma, P.U. Senate Member Dr. Mukesh Arora also graced the occasion with their presence.