Rajeev disguises as tutor to unite Barry and Rishabh on Sony SAB's Tera Yaar Hoon Main
Ssudeep Sahir essays the role of Rajeev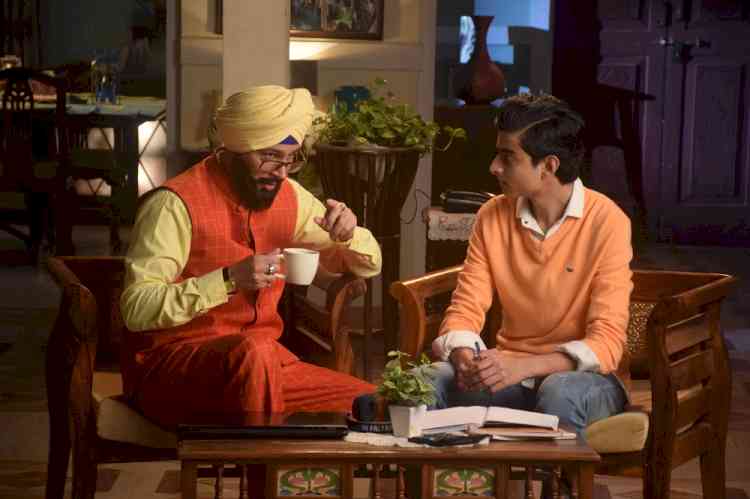 Rajeev in a tutor disguise teaching Barry.


Capturing the true essence of slice of life, light-hearted comedy, Sony SAB's Tera Yaar Hoon Main is set to witness Rajeev's new andaaz. While Rajeev (Ssudeep Sahir) and Daljeet (Sayantani Ghosh) are trying to strike a balance to make their kids get along, a new challenge has made its way in their lives. The upcoming episodes of Tera Yaar Hoon Main will witness Daljeet and Rajeev joining hands to make their sons and get rid of deceitful Shakti who has made his way into their house.
The union of both the Bansal and the Bagga families have not been easiest so far. Adding to this rift is Rishabh (Ansh Sinha) and Barry's (Viraj Kapoor) ongoing rivalry. While Rajeev and Daljeet are finding ways to strike a balance with one another, Shakti (Mohit Dagga) after getting hurt by Rajeev's scooter, persuades dadaji (Rajendra Chawla) to let him stay in their house. On the other hand, both Barry and Rishabh decide to participate in a mathematics competition and Daljeet takes this opportunity to keep an eye on Shakti at all times. Rajeev disguises as a mathematics tutor and starts prepping Barry for the competition while Daljeet finds her own sneaky methods to help Rishabh.
While the parents are busy befriend each other's sons, Shakti is trying to find the truth behind Daljeet and Rajeev's marriage.
Will Rajeev and Daljeet win over Barry and Rishabh? Will Shakti find any evidence against Daljeet's marriage with Rajeev?
Ssudeep Sahir, essaying the role of Rajeev said, "It was such a refreshing change to don a disguise for the upcoming episodes on the show. It is always fun to play a different character, you get to try something new. For this character, I even touched upon my Punjabi. I will be essaying the role of Punjabi mathematics tutor and the viewers must get ready to witness Rajeev in a never seen before avatar. While it took me a while to get into the look but the final outcome was good and I am sure the episodes further will be entertaining for our viewers."