Rajasthan has largest government-run enterprise incubation network in country
It can support social transformation, says Dhiraj Kumar, Commissioner of Rajasthan Foundation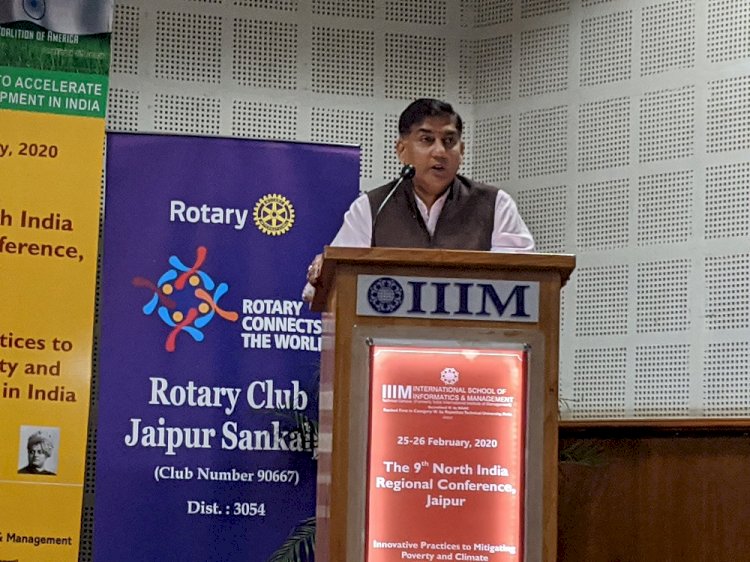 Mr. Dhiraj Kumar,Commissioner , Rajasthan Foundation addressing the gathering.


Jaipur: India Development Coalition of America (IDCA)in collaboration with International School of Informatics & Management and Rotary Club Jaipur today hosted the '9th North India Regional Conference on Innovative Practices to Mitigating Poverty and Climate Change in India'. Mr. Dhiraj Kumar, Commissioner of Rajasthan Foundation; Mr. Arvind Thanvi, Founder and Chief Mentor – Mohini Foundation; Dr. Mohan Jain, Trustee & Founder President IDCA were the key speaker at the conference.
Mr Dhiraj Kumar highlighted the commitment of the Rajasthan government in promoting clean energy for combating climate change and its effects. " I am proud to say that Rajasthan a leader in renewable energy among Indian states and under the leadership of Shri Ashok Gehlot, Hon'ble Chief Minister of Rajasthan, we are aiming for 37.5 GW of renewable energy generation by 2022" he said. 
"Shri Ashok Gehlot, Hon'ble Chief Minister of Rajasthan  has announced implementation of rooftop solar systems on a large scale in the state to promote renewable energy and every district headquarter and identified urban areas will be developed as 'green energy city'" he added. 
Mr. Dhiraj Kumar while elaborating on the relation between climate change and poverty stated that the consequences of climate change hit the most vulnerable more badly than others and according to the World Bank it could force another 100 million people in extreme poverty across the world. Events like flooding, severe storms, and drought leaves millions of farmers most vulnerable to climate change in India.
Mr. Dhiraj Kumar further shared the seven resolutions of the state government declared in the budget for mitigating the poverty and serving society. He narrated these key focus areas which were announce in the state budget by the government of Rajasthan - Nirogi Rajasthan, Sampann Kisan, Mahila, Bal aur Vriddh Kalyan, Saksham Mazdoor, Chhatra, Yuva Javan, Shiksha ka Paridhan, Pani- Bijili aur Sadkon ka Maan and Kaushal and Taknik Paridhan.
"That future generations are able to live healthy, meaningful lives is the Government's highest priority" he said. 
He urged to students to work together with older generations for the change that is needed.  "If you have a social enterprise idea, you can start with iStart," said the Commissioner Rajasthan Foundation. iStart, Rajasthan is the integrated startup platform of Government of Rajasthan which helps aspiring entrepreneurs.. 
A budget announcement for extending iStart to premiere education institutions like BITS Pilani, MNIT and IIT Jodhpur would further strengthen India's largest government-run incubation network. The initiative to promote startups is also promising of social transformation through social enterprises 
The conference also had a key note address delivered by Mr. Arvind Thanvi and Dr. Mohan Jain who exemplified on various initiatives to improve upon education processes in government schools initiated from Rajasthan in the year 2012 and is now present in more than 1800 schools across four states and countries. 
About 200 students and key experts from various sectors took part in this conference. The conference objective is to sensitize students towards social responsibility and make them understand the concept of social entrepreneurship. The other key topics are to be discussed on the 2nd day of the conference are Emerging prospects in Education and Livelihood.