Rahul Bose roots for Kala Ghoda Arts Festival 2020 through his latest tweet
Actor urges people to join hands in preserving country's prestigious art festival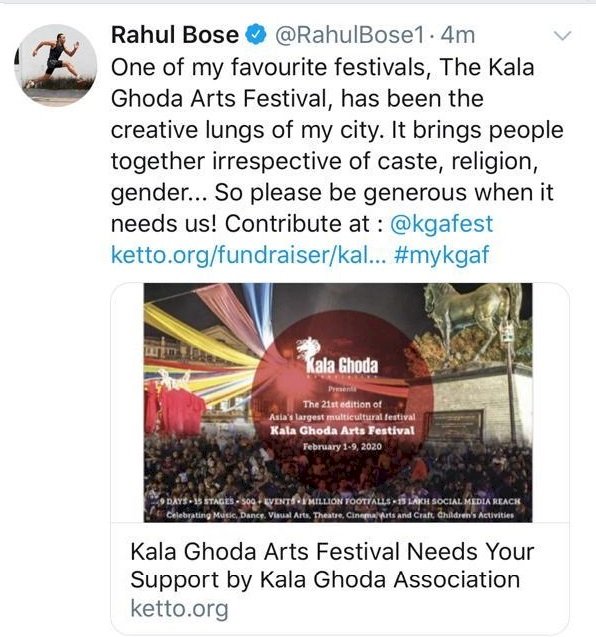 Rahul Bose tweets for Kala Ghoda Arts Festival 2020.
Bollywood's renowned actor, director and social activist Rahul Bose has made his presence felt in the industry and on social media with his incredible performances and witty tweets. Apart from his trending twitter phrase 'My Rahul Bose moment.', he recently shared yet another a noteworthy tweet.  This time he is voicing his support and encouraging people from all walks of life to take a step towards restoring the country's largest multicultural art festival - Kala Ghoda Arts Festival.
Taking ahead the festival's outreach this year, Rahul Bose shared the following tweet-, 'One of my favourite festivals, The Kala Ghoda Arts Festival, has been the creative lungs of my city. It brings people together irrespective of caste, religion, gender... So please be generous when it needs us!'
His tweet came after the prestigious festival's twitter handle announced their new initiative for this year in association with Ketto. Through this drive, for the first time in their 2 decade long history, they are inviting art lovers all across the country to come together in carrying forward the Kala Ghoda Arts Festival's legacy. Highlighting the constant contribution of this annual festival in preserving Mumbai's cultural heritage, Rahul Bose' tweet about protecting the inclusive festival is applaudable.
The people who have enjoyed editions of the event previously, must come in support of the platform.  Indian Business Tycoon Anand Mahindra, along with celebrity Chef Ranveer Brar and popular VJ and comedian Anu Menon have also been vocal about the initiative on their respective twitter handles. Kala Ghoda Arts Festival 2020 will be spanning across 9 days starting from February 1, 2020.