Radhaswami Satsang Parour came forward to help people during corona pandemic
Offered its huge satsang bhawan and all available resources for setting up of corona institutional quarantine centre in its premises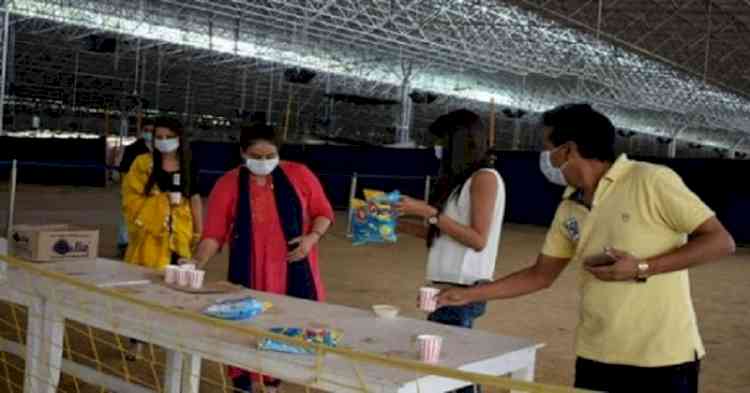 Dharamshala: Amid global lockdown due to Covid-19, the world is struggling with the threat of Corona virus. All are struggling to contain its spread. Physicians, para medical staff, police, administration, sanitation workers, media and volunteers, all are working day night to free the society of this deadly virus.  Amid all these activities, Radhaswami Satsang Parour has come forward and offered not only its huge satsang bhawan in Kangra district, about 30 kms from Dharamshala and also all available resources for setting up of a corona institutional quarantine centre in its premises.
 
It has become the biggest institutional quarantine center in the district. As many as 1,000 persons can be stayed here. It has almost the same number of toilets and bathrooms thus helping in containing the threat of spread of infection. Not only this, hundreds of volunteers of this Satsang are serving day and night the persons kept under institutional quarantine. All corona warriors and quarantined people are served packed nutritious food, tea and water by them.
           
Volunteers of Palampur Saviour are also working day and night since lockdown and helping people by delivering medicines and other essential items at their doorsteps in the area. They are also helping at the Radhaswami Satsang, Parour in various services.
           
SDM, Palampur Dharmesh Raamotra said, "The timely help extended by these two organizations made the work of the administration looking easy. Volunteers are working throughout the day. A batch of 321 passengers reached from Goa in the first lot, followed by 248 people from Mumbai. All were scanned and sent to home quarantine. The administration has been providing all essential items to protect workers of these two organizations from infection as per protocol." He thanked both these organizations and their volunteers.