RAC Chandigarh Shivalik conducted "fright night" to celebrate halloween
Rotaract Club Chandigarh Shivalik celebrated Halloween on 30th October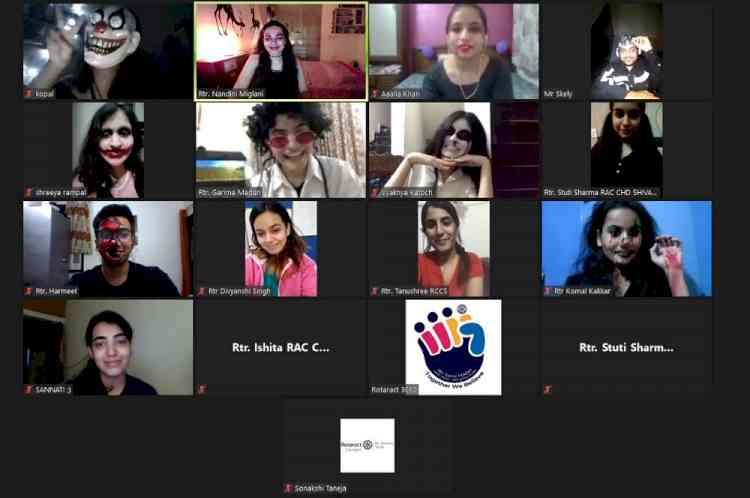 Chandigarh: Rotaract Club Chandigarh Shivalik conducted Fright Night on the 30th of October to celebrate the spook-takular holiday of Halloween. The event was open to non- Rotaractors as well. Everyone was told to dress up, wear a mask or do make up in the spirit of the event. All those who joined the event were dressed up as various characters and had ghoulish make-up on their faces. The event started with a mashup of songs to which everyone danced and to keep the energy high everyone played Halloween charades where people enacted various movies and the others guessed them.
 
Rtr. Stuti Sharma, Club President, stated "It was a good change to have everyone get together and dance to the groovy tunes amidst the home bound pandemic. It was a great experience bringing out our inner spooky side."
 
To bring in the energy before the party started, the organizers had also planned a few fun games on the WhatsApp group created for the Fright Night. An amazing quiz and a really mind boggling crossword puzzle was shared with all the contestants.
 
Having had the event be a success and highly enjoyed by everyone Rtr. Tanushree Raina, Public Relations Officer and Event Chair said "The event was conducted for everyone to bring their creative side out. I am happy that everyone had fun and enjoyed the Fright Night by making some moves all together."
 
Rotaract Club Chandigarh Shivalik will continue to organize such amazing events in future to break the monotony of the lives these days.