PYDB Chairman, MLA Dawar and DC call upon youth to become role model in war against Covid-19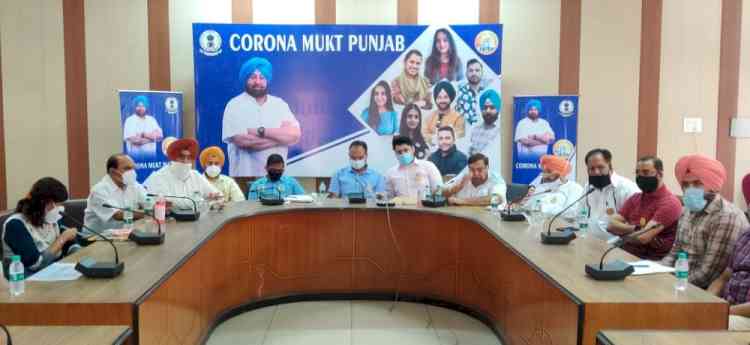 Ludhiana: Punjab Youth Development Board Chairman Sukhwinder Singh Bindra, Member of Legislative Assembly (MLA) Surinder Dawar and Deputy Commissioner Varinder Kumar Sharma on Thursday called upon the youth to channelize their unbounded energy in mass awareness drive against Covid-19 pandemic by engaging themselves aggressively in rural areas. 
Participating in virtual program of Mission Fateh-2 under Corona Mukt Punjab drive started by Chief Minister Capt Amarinder Sukhwinder Singh Bindra, Singh, Surinder Dawar and Varinder Kumar Sharma said that India has largest youth population in the world and hardworking Punjabi youth are known across the globe for their indomitable spirit. 
Accompanied by Mayor Balkar Singh Sandhu, Punjab Medium Industrial Development Board Amarjeet Singh Tikka, Punjab State Industrial Development Corporation KK Bawa, Backfinco vice chairman Mohammad Gulab, Additional Deputy Commissioner Sandeep Kumar, they added that Punjabi youth have now big responsibility on their shoulders to defeat the Covid-19 by sensitizing the people in their villages about preventions from deadly disease and busting the myths surrounding the vaccine. 
They said that the abundant energy of the youth can transform awareness drive in mass movement by making each villager alert about the symptoms of Covid-19 including fever, cold, cough, body ache or difficulty in breathing and motivating them for testing as early medical assistance can save a precious life. They told that delayed diagnosis of patients was the main cause of increased mortality.
Urging the youth to play a proactive role in busting the myth or misinformation surrounding vaccine, they said that this is one kind of national duty and youth must fulfil it to protect the country from the deadly disease.
They said that the youth can help in escalating the speed of inoculation drive by explaining effectiveness of vaccine against the virus thus can help to prevent third wave. 
Further, they told that youth can be very helpful in educating the people about the right technique to use face masks and avoiding socialization in the rural areas besides distributing Fateh Kits to the home isolated patients. 
They said that Punjab has 13800 youth clubs, 15000 NSS clubs and 600 red ribbon clubs and these have around 15 lakh youth as members. They told that active participation of all youth members can make a big difference in this battle against the contagion by bending the curve at the earliest. 
They said that the encouraging response of the youth at 'thikri pehras' is already helping in the preventing the entry of any outsider in their villages.
Prominent among present occasion included Civil Surgeon Dr Kiran Ahluwalia Gill and others.