PYDB Chairman distributes sports kits to various villages in Sahnewal
Appeals to the youth to stay away from drugs and show maximum participation in sports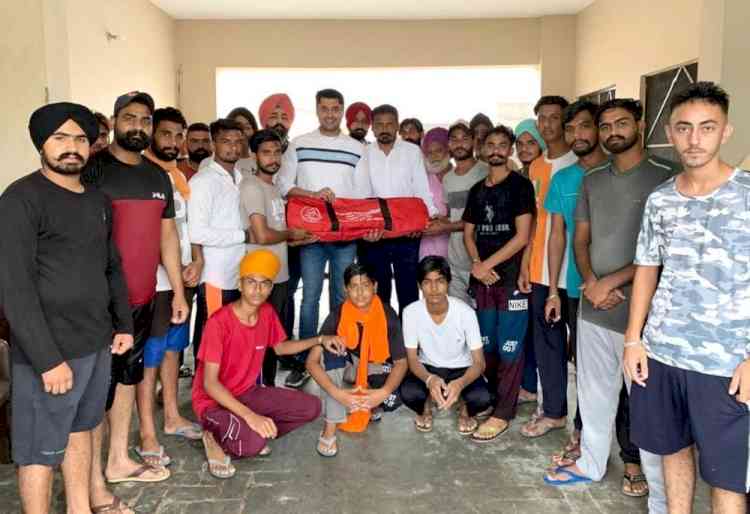 Ludhiana: Punjab Youth Development Board (PYDB) Chairman Sukhwinder Singh Bindra on Wednesday distributed sports kits among youths of various villages falling in the Sahnewal assembly segment. 
Speaking to the youths while handing over kits in Raian, Bhagpur, Kuliewal, Meonwal and adjoining villages of Sahnewal, Bindra said the state government is committed to the progress of the youth of Punjab and is not leaving no stone unturned to make Punjab a hub of sports in the country. 
He said that the sports play an active role in the overall development of the personality of students. 
He said by inculcating the sports activities among the youths, the drug menace can be wiped out completely from the state.
PYDB Chairman said sportspersons are blessed with several qualities and one of them was that they develop team spirit during the game.
He appealed to the youth to stay away from drugs and show maximum participation in sports.
Bindra said he is visiting all villages of district under the youth contact programme to encourage the youth towards sports and PYDB would take the message of Chief Minister Capt Amarinder Singh to the grassroots. 
Prominent among present included Inderpal Grewal, Harpreet Grewal, Jassa Raian, Mandeep Singh Sahnewal, Charanjit Singh Kala Bhagpur, Jasvir Singh Kraur, Jassa Raian, Jobandeep Singh Bhagpur, Sikandar Singh, Manpreet Singh Dheri, Bachittar Singh Meonwal, Gurpreet Benipal, Sumit Dheer, Shashi Ranjan and others.