PV Sindhu shares life lessons on National Sports Day
She is Bank of Baroda's brand endorser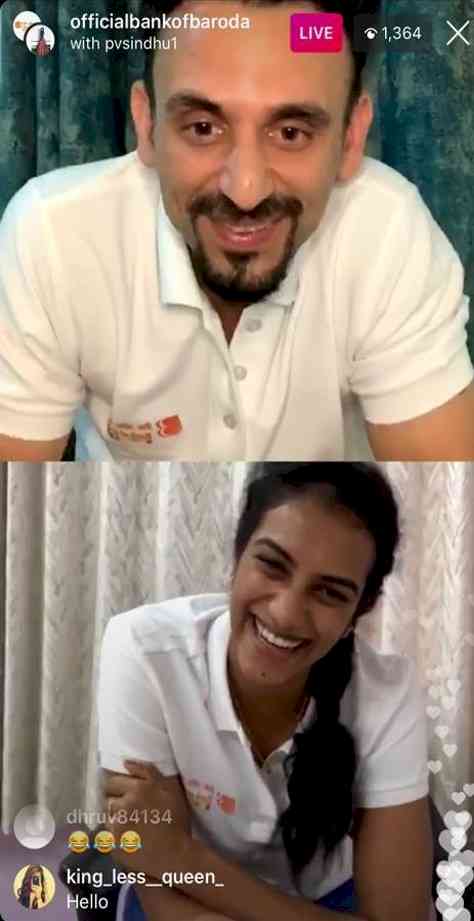 Chandigarh: Deft drop shots, thrilling rallies and many, many smashes, India's badminton champion, PV Sindhu, pulled out her a-game while interacting with fans on an Instagram Live event, hosted by Bank of Baroda, on National Sports Day.
 
One of the largest Public Sector banks in India organised the session, called #SmashItWithSindhu, with the Olympic Silver Medalist to inspire India's youth to follow their passion and reaffirm the importance of sports. At its peak, nearly 1500 users participated in the live AMA (Ask Me Anything) session with Sindhu.
 
From her inspiration to her favourite entertainment and life in the lockdown, PV Sindhu answered each question with her usual witty charm. Her fans loved her and we had some interesting questions. In the beginning, a viewer asked her "Which alternate career would you have chosen?" Without batting an eyelid Sindhu replied that as a child she wanted to be a doctor, but now she thinks badminton is better. On being asked about her inspiration she said it is her father a noted sportsperson himself; she loved watching him play. "Dad inspired me to play sports when I took up badminton he never questioned my choice." The viewers were also curious about her life during the lockdown. According to Sindhu, she has spent more time with family and picked up hobbies that she never had time for earlier. When asked about which household items she uses for her lockdown training, she said: "I use the 2-litre water bottles to lift weights." The pandemic has affected all of us, and according to Sindhu, players will have to get used to future matches without spectators.
 
About the thought behind the initiative, Deputy General Manager Rakesh Sharma — Head of Marketing & Branding said, "India is a nation of young people, and they are our future. Along with some of the world's best doctors, entrepreneurs, engineers and lawyers, India is also home to some exceptional sportspersons. Champions like PV Sindhu have put India on the world map with their indomitable spirit and prodigious talent. Today's session was to communicate her spirit and `never say die` attitude to every aspiring sportsperson, to support and encourage them to aspire to such heights. As an institution, Bank of Baroda has always been a staunch supporter of sports and helps sportspersons realise their dreams. We will continue to do so in future". In the interview, Sindhu mentioned that she appreciates Bank of Baroda's prompt services and friendly employess. The bank has been with her for four years and counting.
 
Beyond badminton and sports, PV Sindhu also touched upon other important aspects of a sportsperson's life, such as managing finances and investing for the future. "Everyone needs to be careful about their career paths and know that life is a long-term investment. So the best thing is to plan accordingly and keep investing." She prefers mutual funds to deposits, but her investment portfolio is diverse. She has invested in mutual funds via the SIP route, and Fixed Deposits. According to her, savings are important; in fact, she deposited her first big paycheque straight in her bank. She also has a PPF account for the long-term. She recommended her fans to download the MConnect app from Bank Baroda to get started. On talking about being rich, Sindhu feels proud of her success. Growing up, she never had a wishlist because her parents always gave her what she wanted. But instead of letting her success and wealth get to her head, she is firmly grounded to her roots.
 
Besides financial security, PV Sindhu also spoke about the importance of staying safe during the pandemic. She narrated how she uses only digital platforms and contactless technologies to do all her banking. For customers like Sindhu, who prefer contactless banking, Bank of Baroda last month launched 'Insta Click Saving Bank Account', a 100% paperless digital self-assisted online savings account. It helps consumers open a savings account from the safety of their homes with digital KYC, Aadhaar-based OTP authentication and is activated in real-time.
 
One of the interesting moments in the live interaction came when Sindhu suddenly seemed preoccupied with her phone. Sports journalist and compere, Jatin Sapru, wanted to know what was keeping Sindhu so absorbed. It turns out Sindhu was making a quick online transaction using the Baroda MConnect Plus app. Apparently, the champ uses apps like Baroda Connect, Baroda M-Connect Plus & BHIM Baroda Pay to manage her finances and make payments.
 
PV Sindhu sportingly answered many good questions from social media users on badminton, sports, finances, banking and life. She left her fans with some great bits of advice herself, to children starting out in sports, "Never lose hope." For those who wanted to know how she manages stress, she said: "When I'm on the court I think about myself and my expectations and not what others' expectations are."
 
While all the fans asked great questions, the user who asked the best and most creative question won a special prize from the Bank -- merchandise signed by the sports star.