PURE EV launches its newest EV dealership showroom in Dombivli
"The showroom was inaugurated in Dombivli, Maharashtra on the momentous 74th Republic Day of India, 26 January 2023."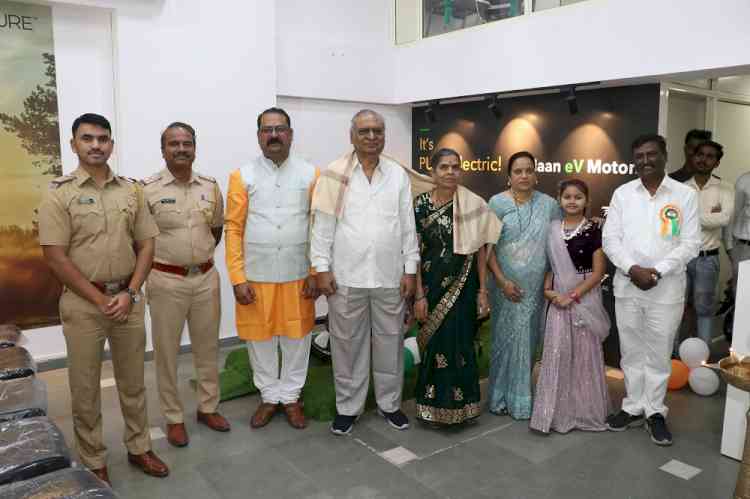 New Delhi, January 27, 2023: Dombivli (MH): PURE EV, one of the leading EV2W OEMs in the country, has launched its newest EV dealership showroom in Dombivli, Maharashtra. The showroom is a premium experience center showcasing the range of electric motorcycles and scooters of PURE Brand, located at Solaire Industrial Estate complex in East Dombivli, Thane. Senior officers from the local RTO and Traffic Unit, Umesh Gitte and Ravindra Vasantrao Kshirsagar were also present at the event.
PURE EV has crossed 57,000+ deliveries of EV2W through its wide network of dealerships across the country and abroad. The Company has established a 1,00,000 sq.ft. factory in Telangana comprising vehicle and in-house battery manufacturing divisions. The Company is further in the process of expansion to 2,00,000 sqft facility with annual vehicle production capacity of 120,000 units and annual battery production capacity of 0.5 GWh, which will be ready by the end of FY 24. PURE EV has launched its first commute electric motorcycle ecoDryft recently which made PURE EV the only EV2W OEM in India that has both Electric Scooters and Electric Motorcycles in its product portfolio. 
On the inauguration of PURE EV's dealership opening in Dombivli, the Chief Executive Officer of PURE EV, Rohit Vadera said "Kalyan-Dombivli is considered one of the fastest developing cities in the Mumbai Metropolitan Region and we are very excited to be part of the local community and share this journey. This new dealership which will be our 11th exclusive in the state and second in Thane district also strengthens our belief and commitment to Maharashtra as we expand our footprint across the state.
Maharashtra is one of the few states that has a dedicated EV policy which enables a sustainable EV ecosystem to grow and prosper. The state's commitment towards renewables was further strengthened at the recent World Economic Forum in Davos. The Chief Minister, Eknath Shinde has signed MOUs worth 1.37 Lakh Crores and majority of them for investments into Renewables and Electric Vehicles sector. PURE EV's shared vision is also in line with the Chief Minister's vision to make the state and the country a better place by providing means of sustainable transportation and ensuring environmental protection via reduction of emissions from petrol and diesel vehicles."
Highlighting the technological aspects of the in-house developed products and importance of service network, Rohit Vadera, added, "PURE EV has nurtured a strong team of product design and development at its R&D center. The core R&D activities of the company are aligned keeping in mind the expectations of the average Indian customer. Through an industry leading practice of setting up state of the art workshops with all the necessary tools and equipment, we are ensuring one of the best after sales service experiences for our esteemed customers." 
PURE EV is currently one of the leading EV2W brands and is rapidly expanding its dealership network across the country.