Punjab's first ever  virtual "business startup investors meet" held at DAVIET  during pandemic
This event proves to be important as it spreads awareness about start-up ecosystem and scout aspiring and grass root entrepreneurs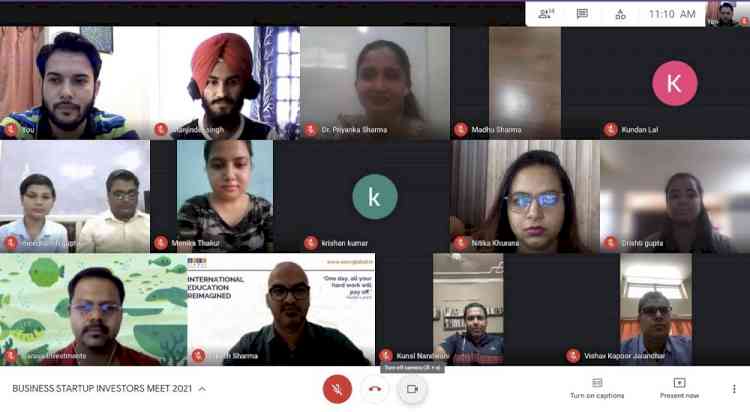 Jalandhar: DAV Institute of Engineering & Technology, Jalandhar in association with Micro,Small and Medium Enterprises-DI,Ministry of MSME,Govt of India and Chandigarh Angels Network has organized Punjab's first ever Virtual Business Startup Investor Meet during pandemic. This event was a platform provided to budding entrepreneurs to present their business idea in front of investors and panelists and also the opportunity for the top 3 winners to get prizes.
As DAVIET is the host institution for MSME in entire region so 10 best Ideas will also get the opportunity to apply for funding upto 15 lacs each under MSME scheme. 
This event proves to be important as it spreads awareness about start-up ecosystem and scout aspiring and grass root entrepreneurs. The underlying objective of this event was to motivate the youth, create self-employment, upgrade the skills of entrepreneurs and provide them support to set up their units under professional guidance. This event will provide an opportunity to the youths to turn their innovative ideas into reality.The contest was open to students, corporate professionals, entrepreneurs, as well as other independent individuals and age is not a limit. This would go a long way in galvanizing the youth to take up self-employment ventures, which would eventually help in creating enormous job opportunities for unemployed youth. This event has reached out and sensitize more than 255 business ideas throughout India and this event was purely based on the skill and talent of students. 
After final evaluation from the paneslists and Investors, the first position was awarded to the Idea "Jai Bharat Agritech" of Mr.Deepak with cash prize of Rs 31,000/-,Second Position was awarded to the Idea "Magazo"of  Mr.Samridh Khanna with cash prize of Rs 21,000/-  and third prize was awarded to idea "Sivious Solutions" of Ms.Shambhavi with cash prize of Rs 11,000/-.
Mr. Vishav Kapoor, Manager (Industry Interface) along with Ratish Bhardwaj and Kalpana Sharma said that the institution has been organising these kinds of events from time to time to promote entrepreneurship among the students of DAVIET.He highlighted that it is only by taking initiatives and being job providers that we can steer the nation forward. He thanked principal of the institution Dr. Manoj Kumar for his continuous support and guidance.
Dr. Manoj Kumar, Principal DAVIET shared the fact that the institution has a start up Policy for students so that they can have benefit from the lucrative policies of the government. He also informed that the institution has provided space to the startups in the institution itself to start the work. He reiterated his belief that DAVIET students will be the trend setters and market leader even in the field of Entrepreneurship development.
 .