Punjab Youth Development Board successfully organises 12 covid19 vaccination camps in Ludhiana till date
Chairman Sukhwinder Singh Bindra inaugurates 4 camps today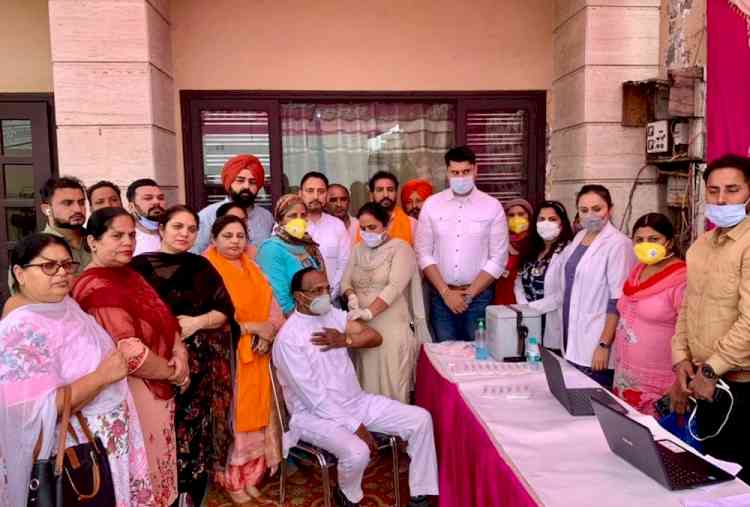 Ludhiana: The Punjab Youth Development Board (PYDB) under the chairmanship of Sukhwinder Singh Bindra has organised a total of 12 Covid19 vaccination camps in the district till date. Bindra inaugurated 4 such camps at Highway Industries Ltd, Focal Point, Highway Industries Ltd, Sahnewal, Highway Industries Ltd, Gill Road and in Ward Number 25, Ansal Colony, Sahnewal today.
    While speaking to media persons on the occasion, Sukhwinder Singh Bindra specially thanked Amol Munjal, owner of Highway Industries for organising such vaccination camps in all their units. He said that during these camps, more than 6000 industrial labour would be vaccinated by the Punjab government totally free of cost.
    The PYDB Chairman said that they had organised first such camp at Gurudwara Shaheed Baba Deep Singh Ji in Model Town Extension on March 27, 2021, and ever since, a dozen such camps have been organised in the district. Sukhwinder Singh Bindra said that the PYDB is making all-out efforts to administer the dose of the Covid19 vaccine to people and PYDB would leave no stone unturned to ensure speedy coverage of the those eligible at the earliest.
    The Chairman said that only accelerated vaccination drive can help to build herd immunity resulting in breaking the transmission chain of the infectious disease.
     He also thanked industrialists for always supporting the PYDB and Capt Amarinder Singh led Punjab government in several welfare schemes. He said that thousands of sports kits were provided to the PYDB by the industry and they have been helpful for the youth. He said that now that vaccination drive is going on in the state, he wanted to that the industry by organising special camps in their premises so that all their workforce gets vaccinated and stay safe.
    
      Bindra added the Punjab Government is running the vaccination drive on the war-footing level and now it is the social responsibility of the people to fulfil it by getting the shot.
    Prominent among those present on the occasion included Aman Mehra, Inderpal Grewal, Harpreet Kaur Grewal (Block President), Gurdeep Kaur (Distt. President Mahilla Congress), Harvinder Pappi (Block President), Mandeep Sahnewal, Bunty Bilga, Shingara Singh Mangli, Harjeet Kaur Garcha, besides several others.